Book Review | The Troop by Nick Cutter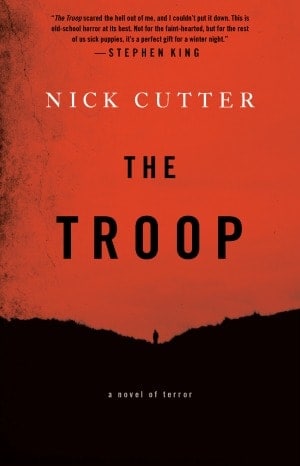 *I received a copy of this book for review, but was not compensated financially in any way. The opinions expressed are my own and are based solely on my experiences while reading this book.*
Title: The Troop
Author: Nick Cutter
About the Book:
It begins like a campfire story: Five boys and a grownup went into the woods…
It ends in madness and murder. And worse…
Once a year, scoutmaster Tim Riggs leads a troop of boys into the Canadian wilderness for a three-day camping trip—a tradition as comforting and reliable as a good ghost story and a roaring bonfire. But when an unexpected intruder stumbles upon their campsite—shockingly thin, disturbingly pale, and voraciously hungry—Tim and the boys are exposed to something far more frightening than any tale of terror. The human carrier of a bioengineered nightmare. An inexplicable horror that spreads faster than fear. A harrowing struggle for survival that will pit the troop against the elements, the infected…and one another.
Part Lord of the Flies, part 28 Days Later—and all-consuming—this tightly written, edge-of-your-seat thriller will take readers deep into the heart of darkness and close to the edge of sanity.
My Review: 
I haven't read a book quite like The Troop in a very long time. In fact, this book reminded me of the Stephen King books I used to read as a teenager. It was written in the same style: lots of detailed descriptions, vivid characters and extremely creepy. It was so scary that I even had a nightmare about the book and dreamt that what was happening to the characters was really happening to me! I don't think a book has ever given me nightmares before so that's a first! Good thing I enjoy scary books.
The Troop captured my interest right from the first page. A very sick and extremely hungry man makes his way to a remote island off the coast of Prince Edward Island. The man finds his way to a cabin which happens to be the only sign of human life on that island and meets Scoutmaster Tim Riggs. Tim is also a doctor and is there on the island with a small group of 14 year old boys for their annual scouting trip. 
Tim figures out right away that there is something seriously wrong with this stranger, but being a good person and a doctor who wants to help, he invites him in. He ends up feeding this hungry man and trying to treat him. The terror then starts to spread. This man is infected with something that shouldn't exist but does and is extremely disgusting. I feel sick even thinking about it!
As the story progresses, we learn more about the background of each of the boys and I find myself rooting for two of them to survive. Another one of the boys has serious mental issues and is almost as scary as the infection itself.
I had to keep reading to see how it would play out. I didn't know who would survive (if anyone). 
Whatever you do, do not eat and read this book. You will lose your appetite!
The Troop was a thrilling ride and  one that I won't soon forget! I'll be having nightmares about this one for awhile I think.