RAVPower Review
Disclosure: I was not financially compensated for this post. I received a sample of the product for review purposes. The opinions are my own, based on my personal experience with the product.
I'm a big fan of portable power. I use my phone as a phone/camera/notebook/etc., I take my iPad along with us on most trips, my husband uses his phone for multiple tasks, and we usually have our laptops with us on long trips. With all that technology, we need a backup plan! While I try to be careful about our battery lives, I always make sure we have a portable power pack with us in case of an emergency or if we're in an area where we just cant find a place to plug in. I'm always interested in trying out new power products and was glad to have the chance to try out some new power sources from RAVPower that are not only functional but also quite stylish.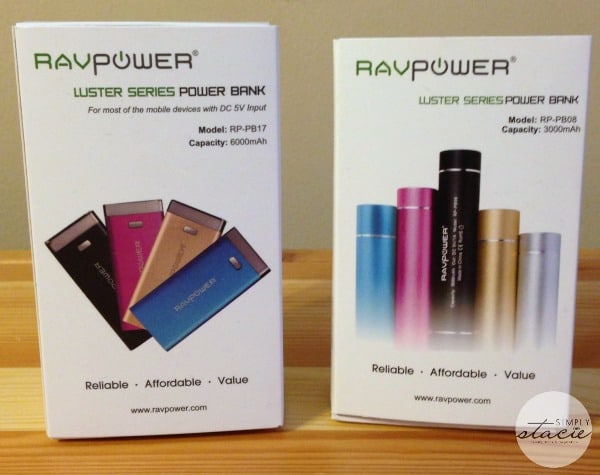 RAVPower sent me two power products from their Luster Series for review.
* RAVPower Luster 6000 mAh External Battery in Pink – First off, the color is so fun! I love the bright pop of the pink – definitely makes it stand out. This battery pack supports several models of smart phones, cell phones, tablets, e-readers and laptops. When fully charged this pack can run your iPhone 5 for 15 hours, plus 40 hours extra talk and an additional 150 hours extra of music for most mobile phones! It has a security protection design in case of short-circuits or over-currents, so your devices are always safe when plugged in to the charger. It also has an LED power bar that lets you know the status of your charge at all times, so you're never left guessing. This battery pack is just over 5 ounces, making it incredibly light and easy to carry. It's slim design is perfect for your purse, diaper bag, backpack, briefcase, or even your pocket. Included with the battery is a USB to micro USB charging cable, a user's guide, and a draw-string carrying pouch. It's available in four different colors and is only $29.99 on Amazon. This is a great battery to take along if you, your spouse, and kids are all packing electronic devices.
* RAVPower Luster 3000 mAh External Battery in Gold – this little battery can give you up to 8 hours of talk time on your iPhone. It's a great battery to give you that extra boost you may need after a long day of using your phone or tablet. It also has an LED status bar to keep you in the know about just how much power you have left. The size is fantastically small and slim and can really fit anywhere – you can even clip it on to your belt if you want! I like that this battery also functions as a flashlight. I think it's important to have a flashlight hand for emergencies and like the dual-function of this piece. With three light modes, you can use this to help get around in the dark. This battery fit nicely in the side pocket of my purse and it's so light that it's is something I can carry with me at all times without adding any extra weight or bulk. At only $19.99 and available in five different colors, this would make a great gift for a college student who can throw this in their backpack, or even a new mom who can carry it in a diaper bag. It's a great comfort knowing you can get an extra charge when you may need it most – stuck with a car that won't start, or if you lose your keys while you're out and need to call for help.
The RAV in RAVPower stands for Reliable Affordable Value. Around since 2011, RAVPower specialize in replacement laptop batteries and AC adapters, external battery power banks, replacement cell phone batteries, and various battery chargers. Each of their products are tested before packaging, and each and every product they sell are CE, RoHS, and FCC certified. They use only grade A batteries and premium micro chips in their products and strive for 100% customer satisfaction, making premium products that are affordable and backed-up with technical and warranty support.
To find the right RAVPower product for your device, check out their website.