Playtex SmartSpace Drying Rack Review #MomTrust
I received a sample of the product for review purposes. The opinions are my own, based on my personal experience with the product.
It's a fact of life that when you have a new baby, baby things tend to take over the house. This becomes even more apparent with a newborn and a 2 year old. My living room is filled with a plethora of stuffed animals, plastic toys and baby equipment and it doesn't stop there. Step into my kitchen on any given day and you will find baby feeding equipment all over the counter. Since we breastfeed and only bottle feed on occasion most of the mess is from our two year olds sippy cups and my breast pump.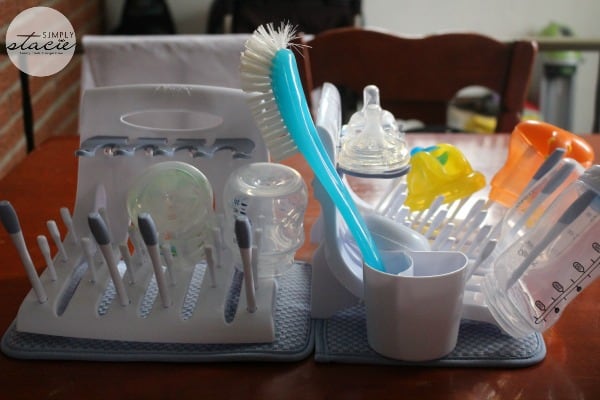 I did attempt to organize the baby clutter in the kitchen with a drying rack but it was too small and kind of flimsy so half the mess was on the rack and the the other half sort of piled around the drying rack. I also found that it created a nasty mess on my counter from all the dripping. Not very efficient or organised at all. Step in The Playtex® SmartSpace™ Drying Rack with its space saving design and my kitchen is almost back to its pre-baby neatness.
The SmartSpace drying rack is aptly named as it can be configured for use as one large drying rack or it can be separated into half a rack making it excellent for those with limited space. It also comes with two small absorbent microfiber drying mats for under the drying rack to keep your counter clean and dry.
I love that there is literally a spot for everything in the rack from bottles of any brand to nipples, sippy cups, your bottle brush and more. I did find that the drying rack works best with higher capacity bottles. I was able to get the 4 oz bottles to sit among the smaller pegs but it just didn't seem as neat as it could be. Still, I did find that the rack does work quite nicely with every brand of bottle I tried which is nice when you have as odd a collection of bottles as I do.
The Playtex® SmartSpace™ Drying Rack is available at retailers across Canada (including Walmart and Babies R US)  for a suggested retail price of $19.99.
Connect with Playtex Mommyville on Facebook.
Elizabeth is an IT Professional and a Family Review Blogger at Frugal Mom Eh. She enjoys writing about a variety of topics including parenting and frugal living. When not writing she enjoys playing with her daughters, 'Keira' and 'Ava', painting and reading.