Natural Heavenly Beauty Review
Disclosure: I was not financially compensated for this post. I received a sample of the product for review purposes. The opinions are my own, based on my personal experience with the product.
One of the biggest things that our family has done when moving towards a greener lifestyle is to eliminate harsh chemical laden bath and beauty products from our home. Natural and organic bath products has made a big difference especially for my young daughter who suffers from severe asthma and has eczema prone skin.
We recently had the opportunity to try a wonderful product line by Natural Heavenly Beauty which features 100% natural and organic ingredients such as tea tree oil, vitamin E and extra virgin coconut oil. I appreciate that this is a bath and beauty line that is safe to use with my entire family as it does not contain any parabens, petrochemicals, artificial colors or artificial fragrances. Instead it use the naturally derived ingredients that I mentioned before along with a selection of therapeutic scents, cocoa butter and Shea butter.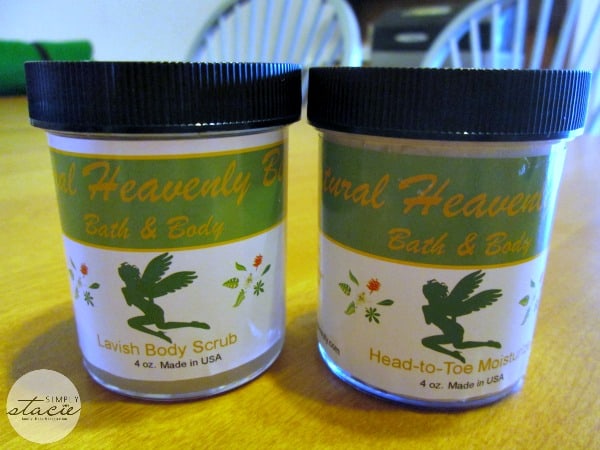 I could not wait to enjoy a relaxing home spa using two of the signature products in the Natural Heavenly Beauty line, the Lavish Body Scrub (SRP $24.95 for 4 ounces) and the Head-to-Toe Moisturizer. Winter has caused my normally dry skin to be even drier so I loved using the Lavish Body Scrub that is made with organic Castille soap, vitamin E and moisturizing oils. What makes this body scrub so exceptional and different from other similar products is that the Castille soap combines with the sugar scrub to make a lathering scrub that feels amazing. My skin felt so invigorated after gently scrubbing it with this Lavish Body Scrub. It removed the dead skin and left behind skin that was noticeably softer and smoother. I also like that it wasn't as dry either due to the combination of moisturizers such as organic extra-virgin coconut oil, Jojoba, Grapeseed, Avocado, Sweet Almond, Safflower and lemon oils. The two scents that I tried are amazing and I like using the Peppermint in the morning shower to wake up and the Lavender in the evening when I am ready to relax. I appreciate that a very small amount goes a long way so I use far less of this product than other scrubs to get the same results, if not better.
The Head-to-Toe Moisturizer (SRP $15 for 4 ounces) is the perfect complimentary bath and beauty product to use after the Lavish Body Scrub. You can choose a matching scent or mix-and-match from among the 9 scented offerings (plus you can get unscented if you prefer). This whipped body feels very luxurious as it absorbs effortlessly into the skin and provides long lasting moisture. It is not greasy or heavy at all and is wonderful for a foot massage too (thanks, Honey!). This product contains organic unrefined Shea butter, organic unrefined cold-pressed extra-virgin coconut oil and an essential oil fragrance of your choice. A little bit of this product goes a long way and I used it on both my skin and my daughter's eczema prone skin which was very soothing.
You are invited to visit Natural Heavenly Beauty to find your perfect "Gourmet food for skin" and purchase your favorites in this natural and organic product line. You can also learn more about hosting a Spa Party or becoming a Natural Heavenly Beauty Spa Ambassador!