Marcelle Prize Pack Giveaway (Can)
My good friends, Stacey and Julie, have been selected to be the new #MarcelleMoms this year. I can't help but be just a little jealous. I follow their updates on Facebook where they share pictures of how gorgeous they look wearing Marcelle products. It makes me want to try Marcelle that much more. Even better is the fact that it only takes them 5 minutes to get their makeup on! Here's Stacey, Julie and their daughters with their 5 minute Marcelle makeup looks. Don't they look beautiful?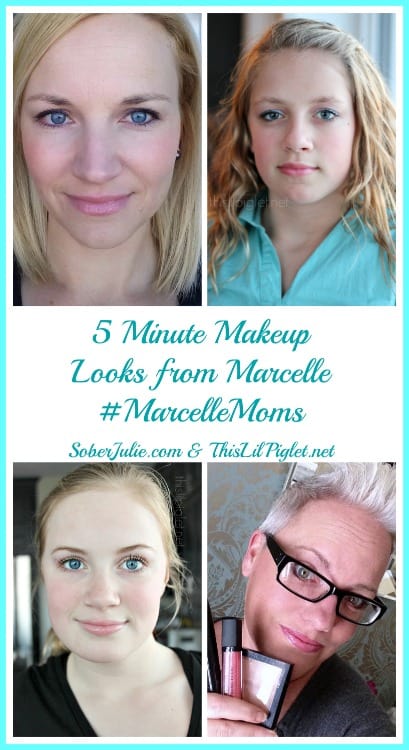 #MarcelleMoms Stacey from This Lil Piglet and Julie from Sober Julie have created 4 5 minute looks with just a few products each.
Marcelle Ultra Gentle Cleansing Gel
Before applying makeup we should take care of our skin by cleansing and moisturizing. Marcelle has recently launched the Ultra Gentle Cleansing Gel which which bears the official seal of recognition of the CDA's Skin Health Program.
Marcelle is the #1 eye make-up remover brand in Canada and is now thrilled to bring forward an ultra-mild and non-foaming facial cleanser which is gentle enough to be used by the entire family. This cleanser is enriched with aloe vera and glycerin which protects the skin's natural barrier and can be used wet or dry.
SoberJulie's 5 Minute Makeup Look from Marcelle
Julie is wearing Marcelle Lux Gloss Cream in Belissima, Xtension Plus Mascara + ProLash Growth Complex, Monochromatic Pressed Powder in Medium(SRP $19.95)
This Lil Piglet's 5 Minute Looks from Marcelle
Stacey is wearing Marcelle CC cream in light to medium, Cream Blush in Coral, Xtension Plus + ProLash Growth Complex Mascara in Black, Marcelle Lux Gloss Cream in Belissima.
Marcelle Lux Cream Eye Shadow +Liner in Sunstone, Twist Push-Up Mascara & Lux Gloss Cream in Spicy Nude.
Marcelle Twist Push-Up Mascara, Lux Cream Eye Shadow +Liner in Wisteria on lid & a light Sea Breeze liner; Lux Gloss Cream in Angel.