JumpStart Blast-Off Learning Series Apps Review
Disclosure: I was not financially compensated for this post. I received a sample of the product for review purposes. The opinions are my own, based on my personal experience with the product.
The one educational computer program that all three of my children have consistently enjoyed over the past two years is JumpStart. Adam (age 8), Hannah (age 7) and Jacob (age 6) play JumpStart and Math Blaster every day as they practice valuable learning skills for reading and math while going on an exciting adventure.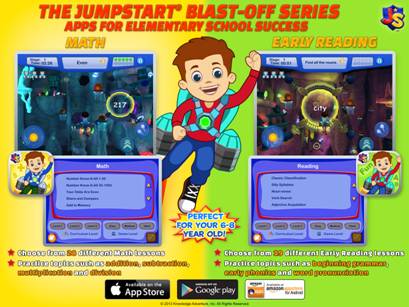 Now, they can also play the new JumpStart Blast-Off Learning series on our Kindle Fire and their IdeaPLAY tablet. JumpStart has released two new educational apps including JumpStart Blast-Off: Math and JumpStart Blast-Off: Early Reading. Both of these apps are available at iTunes, Google Play and Amazon and are geared towards elementary aged children. These two apps offer extra practice in important early math and reading skills. I appreciate the parental features of each app and like that I can choose specific topics for my children to practice as well as set the difficulty level. What makes this educational learning app series so unique is that children are having the virtual adventure of lifetime while learning at the same time. In fact, while my children realize they are learning, they do not ever complain and frequently ask to play past the allotted time given to them each day.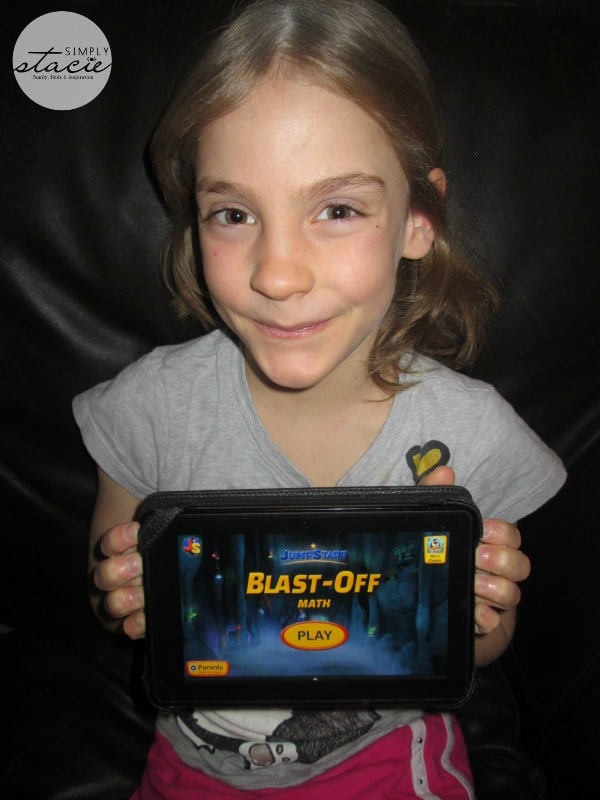 Hannah and Jacob have been enjoying these new apps and I highly recommend purchasing both apps together for complementary play and learning. Hannah and Jacob are in 1st grade and kindergarten and have 15 minutes per day of each of app time as a supplemental part of our homeschool curriculum. In fact, they enjoy it so much that I use it as an incentive and positive reinforcement for completing their formal math and reading studies…….it works great!
JumpStart Blast-Off: Math is surprisingly comprehensive as it covers the basic operations such as addition, subtraction, multiplication and division. This has been invaluable to Adam, my third grader as he is learning multiplication and division. He likes to use this program after completing his written math assignment and he even asks to "play" during his free time too. Previously frustrated with memorizing the times tables, I have noticed a marked improvement since he has started playing this app. All of my kids get very excited with the progressive levels and beam with confidence as they earn virtual rewards and get to move on to the next level.
JumpStart Blast-Off: Early Reading is a wonderful resource for my two early readers as Jacob and Hannah practice word pronunciation, beginning phonics, classification, comprehension and more. Geared for ages 6-8 there are 19 different lessons to choose from for early reading practice. The kids found the tilt and thrust joystick controls easy to use and in just a few minutes of practice they were blasting through the 3D world.
You can currently score a great deal on these two apps for a limited time only. The regular price will be $2.99 each (a bargain even at that price) but it is currently available for the introductory price of only $1.99 each! You are invited to visit JumpStart.com to learn more about all of the educational based learning programs available for children of all ages!
Reader Update: As of 2/4/14, we just learned that the JumpStart Blast-Off Early Reading and Math apps are no longer available for the limited time pricing of $1.99. The apps are the regular price of $2.99 which is still an excellent value in my experience and well worth the money for these exceptional learning games.