DK Canada Sticker Book Boutique
*I received a copy of this book for review, but was not compensated financially in any way. The opinions expressed are my own and are based solely on my experiences while reading this book.*
Title: Ultimate Sticker Activity Collection: Dinosaurs and Other PrehistoricLife (ULTIMATE STICKER COLLECTIONS)
Created in conjunction with the Smithsonian Institution, Ultimate Sticker Activity Collection: Dinosaurs introduces children six and up to the prehistoric world.
With thirty-two pages of reusable dinosaur stickers as well as a full range of related exercises — mazes, jigsaws, mix-and-match, spotters, and fill-the-scene — Ultimate Sticker Activity Collection: Dinosaurs will keep children coming back time and again.
Title: Sticker Encyclopedia: Baby Animals (Dk Sticker Encyclopedia)
Fun and education come together in these super loaded sticker and reference books! Baby Animals features stickers and facts about baby animals around the world, from tiny tigers to mini monkeys.
DK Canada is having a special right now on Sticker books! For a limited time, you can buy two sticker books and get the third one free. They make great gifts for birthdays and Easter. 
I remember having a sticker book when I was a little girl though it was certainly nothing fancy. I made it myself with paper and a stapler and would add in my stickers on the blank pages. The sticker books that DK Canada offers are so much better! I received two sticker books to check out: one about Dinosaurs and the other about Baby Animals.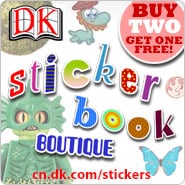 I selected these two for my daughter, Bridget for a couple reasons. The first one being that Bridget takes after me and loves to collect stickers. Another reason is that these stickers books will not only entertain her, but educate her. Bridget is fascinated by dinosaurs especially and collects anything related to them. The Smithsonian Ultimate Sticker Activity Collection: Dinosaurs & Other Prehistoric Life features more than 1,000 stickers and lots of bonus activities. The pages are full colour on high quality paper packed full of information about fossils, types of dinosaurs and more presented in a fun way for kids to learn.
The Baby Animals Sticker Encyclopedia features more than 600 stickers and facts about baby animals. Kids learn about how baby animals live and includes animals from all different habitats. Prepare for a cuteness overload!
All DK Canada sticker books feature reusuable, high quality stickers in a variety of themes. You can find educational sticker books like I picked up as well as super heroes, movie themes and toys. For fans of the movie, Frozen, there's even a Frozen-themed sticker book at only $6.99!
Connect with DK Canada on Facebook & Twitter.