Disney's The Jungle Book Diamond Edition Blu-ray Combo Pack Review
Disclosure: I was not financially compensated for this post. I received a sample of the product for review purposes. The opinions are my own, based on my personal experience with the product.
For the first time ever on Blu-ray, Disney's The Jungle Book (available as of February 11, 2014) is available for a whole new generation of children to enjoy with updated color and sound. Explore the dangerous jungles of India with the man-cub Mowgli and his closest animal friends, Baloo and Bagheera, as they try to convince Mowgli it is time for him to leave the jungle and join the man village.
When Bagheera, a panther, finds a baby boy in the jungle, he doesn't quite know what to do about him. On a hunch, Bagheera leaves the baby for a wolf family to find and raise as one of their own. But when Mowgli becomes a young boy, the fearsome tiger Shere Khan is on a mission to destroy Mowgli from growing into a man.
Bagheera takes Mowgli on a walk one day, not telling him that he won't be going home to his wolf family. As Bagheera steers him in the direction of the man village, the duo encounters dangers such as Kaa and King Louis, who each have their own devious plots for the young boy. But the jungle isn't full of just danger; Mowgli also makes friends with a free-spirited bear named Baloo and a group of vultures. And all together, they come face to face with Shere Khan himself!
The Jungle Book was never one of my favorite childhood Disney movies—probably because it didn't have a love story or princesses and princes. As I grew up and was discovering the classics, I even attempted to read The Jungle Book by Rudyard Kiping, the story on which the Disney film is based.
Watching it again with my daughter has allowed me to see the movie through new eyes. Whether you are male or female, there is no denying that Mowgli goes on an incredible journey in one of the most exciting places on earth. The animation is beautiful, the characters rememberable. Even though it wasn't a favorite, I always had a soft spot for Baloo and Bagheera. (Honestly, Bagheera needs a little more fun in his life, and Baloo could benefit from some of Bagheera's common sense.)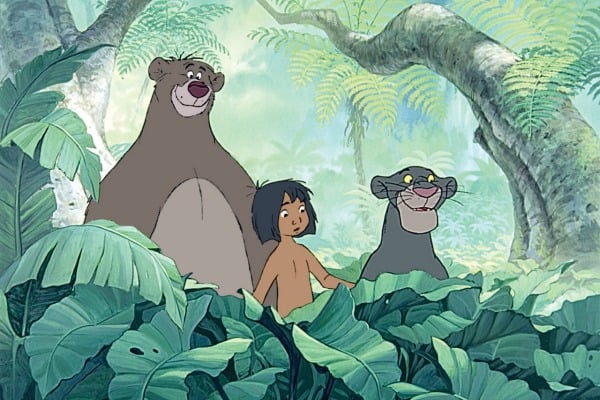 I've enjoyed watching the movie over and over since it has been taken out of the Disney Vault, and am thrilled to have it in my Disney film collection—yes, even though there is no princess in it!
Bonus Features
In addition to the Classic DVD bonus features, there are all-new bonus features for the Disney history lover to watch! There are over two hours of new bonus features, but these are just a few of my favorite:
I Wan'na Be Like You: Two Disney Channel stars get to spend a day at Disney's Animal Kingdom learning about the real-life animals from The Jungle Book. They get their habitats ready for them with enrichment toys. A great introduction to the Animal Kingdom, if you've never seen it before. (I've never been, and now I desperately want to go!)
Special Introductions: Diane Disney Miller (Walt's daughter), Richard Sherman (composer), and Floyd Norman (artist) reflect back on how The Jungle Book came to be.
Alternate Ending: The Jungle Book could have ended very differently! One of today's current Disney story board artists was given the unique opportunity to story board the ending that never was. What do you think: would this have made a better ending? Watch it and decide for yourself.