Taste of Nature Pledge to Snack Healthy
Disclosure: I was compensated for this post. All opinions expressed are my own. 
When hunger strikes, what's the first thing you reach for? For me, I make an honest effort to reach for something healthy to eat. However, sometimes that is easier said than done. Most times I choose whatever is on hand in my house and will admit to eating a not so healthy snack for the sake of convenience. One thing I've learned having been on a weight loss rollercoaster for awhile is to always have a healthy option on hand to abate your hunger. Then you have to make a conscious choice; do you reach for the healthy option or not? For the past week, I've been choosing a healthy snack when hunger hits without sacrificing taste or convenience!
Let me introduce you to Taste of Nature bars! They are organic fruit and nut bars that are the perfect healthy snack choice. Taste of Nature is a Canadian company that has gained popularity worldwide and their delicious bars can be found in 35 countries worldwide. Taste of Nature bars boast many important certifications including being 100% certified organic, non-GMO Project Verified, certified Gluten free, certified Low GI as well as vegan and kosher. The company takes an approach of what you see is what you eat. The bars are in a clear wrapper so you can see all the goodness inside and know exactly what you are buying. The simple ingredients are all real food and stuff you'll know and be able to pronounce. Taste of Nature Bars are a source of energy, fibre, protein, essential fatty acids, vitamins and minerals. It's a tasty snack that is fuel for your body.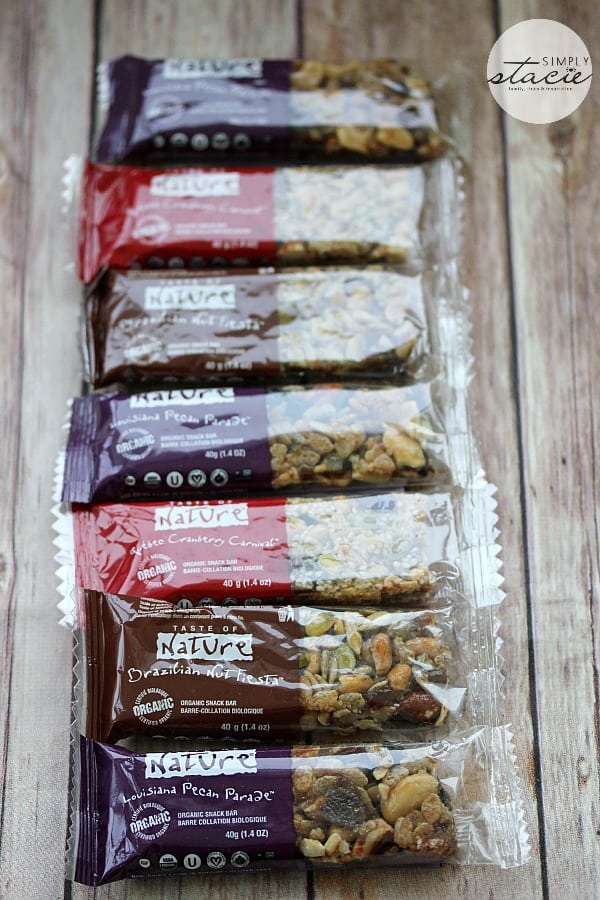 Taste of Nature has a diverse range of flavour options including:
California Almond Valley
Brazilian Nut Fiesta
Quebe Cranberry Carnival
Niagara Apple Country
Argentina Peanut Plains
Nova Scotia Blueberry Fields
Canadian Maple Forest
Caribbean Ginger Island
Himalayan Goji Summit
Mediterranean Pistachio Passion
Persian Pomegranate Garden
Polynesian Coconut Breeze
Louisiana Pecan Parade
It's neat how they add a little bit of geography in the product name. I'm curious what Nova Scotia Blueberry Fields tastes like since that's where I currently live.
Take the Pledge to Snack Healthy
I recently took a pledge to snack healthy in 2014. Taste of Nature is encouraging Canadians to choose healthy snacks when hunger hits. They are asking people to promise to switch to at least one healthy snack a day. Even a small change can make a big impact.
For the last week, I've been eating a Taste of Nature bar once a day as either a mid-morning or mid-afternoon snack. I had three flavours to choose from: Brazilian Nut Fiesta , Quebec Cranberry Carnival and Louisiana Pecan Parade. I have a snack drawer and placed all the bars in there for easy access.
The first observation I had is that it was easy choice to grab a Taste of Nature bar. They taste amazing!  They are packed with nuts and fruit with just the right amount of sweetness.
They are also convenient, Just open and enjoy. If you have to go out, you can keep one in your purse to eat on-the-go. They are a great option to bring with you to work for a quick boost of energy midday.
A Taste of Nature bar really hits the spot. It satisfies the hunger and keeps me going till the next meal. I find if I'm starving before a meal I always overeat. Having a healthy snack prior to a meal makes me not as likely to overindulge.
Choosing a favourite of the three varieties I tried isn't easy. They were all so good. I love anything with nuts, but I think if forced to pick one, I'd say the Quebec Cranberry Carnival. I love the organic cranberries!
Taste of Nature bars make eating a healthy snack a no-brainer. I've got this challenge in the bag!
You can purchase Taste of Nature bars in grocery stores, drug and natural health food stores. Learn more about this amazing brand on Taste of Nature.
How about you? Do you want to try the Taste of Nature pledge and promise to switch to at least one healthy snack a day? Taste of Nature conducted a survey that revealed that Canadians want to snack better in 2014 with 45% of people saying that adding one healthy snack to their diet every day was something they could do to be healthier. Take this challenge with me and if you're looking for healthy snack options, Taste of Nature bars are a great way to start!
Visit Taste of Nature on Facebook and take the Taste of Nature Pledge to Snack Healthy. When you pledge, you'll also be entered to win a daily draw for a yoga mat and Taste of Nature bars (valued at $55). You have till February 28th, to sign the online pledge. I encourage you to join me in my quest for healthy eating habits!