Sambucol Black Elderberry Review
Disclosure: I was not financially compensated for this post. I received a sample of the product for review purposes. The opinions are my own, based on my personal experience with the product.
As a holistic mother of three children, one of whom has severe asthma there is one weapon in our medical arsenal that we are never without during the cold and flu season………..black elderberry. Sambucol is my most trusted source for black elderberry dietary supplements for my entire family with formulas for adults and children.
Sambucol was developed by Dr. Madeleine Mumuoglu who is a world renowned virologist that has scientifically studied the potential benefits of black elderberry. What makes Sambucol different from other brands is that it uses a proprietary method for extracting the black elderberry. In fact, I recently learned that in 2013 International Society for Horticultural Science impressively named the elderberry "Herb of the Year" for 2013 due to its potential to prevent and treat illnesses such as the flu."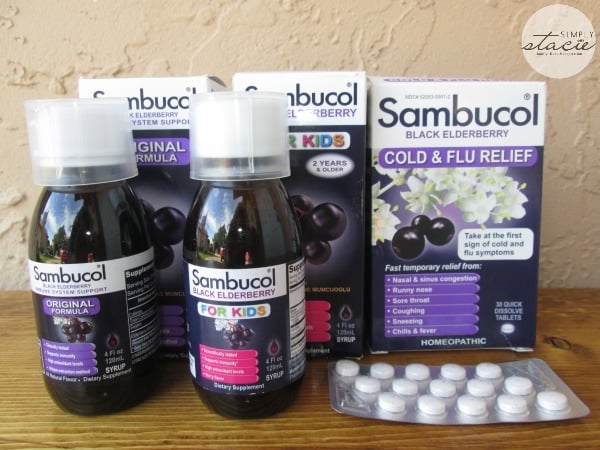 I was first introduced to black elderberry by our pediatrician when my daughter was diagnosed as a baby with severe asthma. Any type of respiratory virus is extremely dangerous for her and the consequences of her getting the flu could be devastating to her already scarred lungs. Our physician recommended that the entire family use a good quality black elderberry supplement as daily maintenance during the cold and flu season and then increase the frequency of use whenever anyone in the family is showing signs or symptoms of a cold or flu. We have used Sambucol for the past six years because I feel like it is one of the most trusted brands based on my own research.
We have used Sambucol Black Elderberry Original Formula (SRP $12.99) and Sambucol Black Elderberry For Kids (2 years and older). I recently discovered a new product in the line i.e. Sambucol Black Elderberry Cold & Flu Relief Quick Dissolving Tablets (SRP $12.99). My entire family including our children love the taste of the delicious and natural black elderberry syrup. It has a nice and not overpowering fruity sweetness and a very pleasant berry flavor.
My son, Adam was ill recently with vomiting, fever, tiredness and general body aches. I gave him 2 teaspoons of the Sambucol Black Elderberry For Kids Syrup (SRP $12.99) four times a day. I appreciate that it is 100% drug free and was easy on his upset stomach. In fact, it was one of the few things that he was able to keep down. As a preventative, my entire family started taking it four times a day too. When my husband also started to feel sick he started to take tbhe Sambucol Black Elderberry Cold & Flu Relief formula. He really liked that the tablets dissolved very quickly and it is designed for fast relief from, "nasal & sinus congestion, runny nose, sore throat, coughing, sneezing, chills and fever." He also liked the packaging as he packed some in his lunch box to take to work with him.
From my family's own personal experience, I highly recommend Sambucol Black Elderberry dietary supplements for adults and children especially during cold and flu season. You are invited to visit the Sambucol website to learn more about this product line and to get purchasing information. It is available online and in major retailers nationwide.