Disclosure: I was not financially compensated for this post. I received a sample of the product for review purposes. The opinions are my own, based on my personal experience with the product.
I home educate our three children ages 6, 7 and 8. I frequently incorporate high quality supplemental learning resources into our core curriculum because it is a great way to reinforce important math, reading, writing and science skills. One of our favorite resources over the past several years has been the award-winning Rock 'N Learn series which features educational DVDs and audio books. Rock 'N Learn has a wide selection of DVD and audio book titles in subjects including preschool & kindergarten, phonics, reading, writing, math, science and social studies, other languages and test-taking strategies.
My eldest son, Adam is in 3rd grade and reads at a 5th grade level while my 1st grade daughter and kindergarten son are currently learning how to read. Teaching Adam to read was so easy that I mistakenly assumed that it would be just as simple with my other two younger children. What I have learned during this process is that all of my children have their own individual strengths and ways of learning. Therefore, the Rock 'N Learn Sight Words 3-Pack DVD set ($51.99) is the perfect addition to our reading class because it helps them to read automatically by introducing and reinforcing sight words. Despite being in different grade levels, Hannah and Jacob can view these titles together and practice the words as a team (or friendly competition). This set includes many of the most frequently used words in the English language as it presents all pre-primer Dolch words, all primer Dolch words, all 1st grade Dolch words and a selection of words from Fry's list. All of the Rock 'N Learn DVDs feature colorful, interactive characters who engage the student while they are learning through practice, repetition and fun, entertaining songs. I also appreciate that the words are presented in context which will help with reading comprehension skills too. All of these DVDs are aligned with Common Core State Standards as well.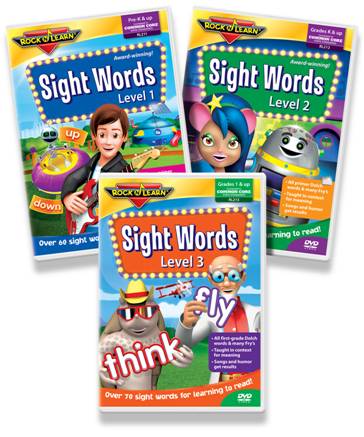 The Rock 'N Learn Sight Words Level 1 DVD is designed for ages Pre-K and up, Sight Words Level 2 is for grades K and up and Sight Words Level 3 is for grades 1 and up. You can purchase each Rock 'N Learn Sight Words DVD individually but I highly recommend the entire 3-pack set because it is a comprehensive supplement that is invaluable when teaching your child to read. You will also save money too when purchasing this as a set.
You are invited to visit Rock 'N Learn to learn more about all of the educational DVD and audio book titles and purchase the Sight Words 3-Pack DVD set.
Simply Stacie readers can receive 25% off your order at Rock 'N Learn by using this coupon code: JQ7711