I Got to Meet Captain America's Shield! #ironman3event #WinterSoldier #CaptainAmerica
*Disney/Marvel provided me with an all expenses paid trip to Los Angeles to attend the red carpet premiere of Iron Man 3, participate in interviews with cast and crew, and a visit to Madame Tussauds Wax Museum. All images are used with the permission of Disney and Marvel. Thoughts and opinions expressed are 100% my own.*
Every superhero knows how to accessorize—including Captain America. Captain America's iconic shield (which has gone through numerous design changes since its first appearance in the 1940s Marvel Comics) acts as both a defensive and offensive tool, depending on the situation at hand. Captain America's shield will make its next appearance later this year on April 4, 2014 in Marvel's Captain America: The Winter Soldier.
I've spent a decent amount of time poring over the artwork of the shield from decades-old comic books, and I have to say that the design of the shield seen in the recent Marvel films is my favorite of all. The artistic credit for Marvel's Captain America shield goes to Russell Bobbitt, who has served as the Property Master on nearly all of the Marvel films since Iron Man in 2008.
The Disney/Marvel Bloggers chat with Property Master Russell Bobbitt about the shield.
We had the pleasure of speaking to him in April of 2013 about Captain America's shield…and even got to have our photographs taken with one of them! Russell made over FIFTY prop shields for all of the different scenarios that Captain America finds himself in. Materials used for these shields include: hard rubber, soft rubber, fiberglass, and metal. In the picture below, I'm holding one of the shields made of hard rubber.
When you see Chris Evans (Captain America) walking with the shield on his back versus fighting with the shield, it's not the same shield. If the shield is on his back, Bobbitt has him carry one of the heavy ones. This way when he's photographed from behind, the shield looks like shiny, new metal. When you see him fighting with the shield, he's holding one of the shields made from a lighter material.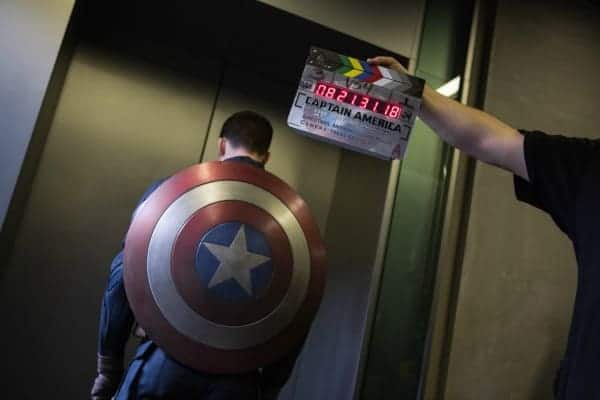 As it gets closer to April 4, 2014, I'll have even more details about Captain America: The Winter Soldier to share with you. In the meantime, catch up on all the latest news about the film on Facebook and Twitter.