Luna Star Naturals Review
Disclosure: I was not financially compensated for this post. I received a sample of the product for review purposes. The opinions are my own, based on my personal experience with the product.
My seven year old daughter, Hannah loves to dress up and role play. She has often asked if she can play with my makeup so I have been searching for a safer brand of play makeup for little girls. It has been a difficult task until now because all of the brands that I found for young girls were full of chemicals and additives. Therefore, I was thrilled to learn that Luna Star Naturals has released a fabulous line of natural pretend play makeup specifically created for girls aged 3 years old and up!
Made in the USA and Canada, Luna Star Naturals is proud that their pretend play makeup is made with safe, natural materials such as minerals with NO talc, paraffin, petrolatum or polypropylene glycol. I was impressed that it also features vibrant, pretty colors without using FD&C or lake dyes in the process.
There are lots of fun imaginative play makeup kits to choose from at Luna Star Naturals including play kits, all natural costume powder face paint and even party packs which would be perfect for themed birthday parties or sleep overs. With lots of fun makeup kit options to choose from such as Queen Fairy, Super Star, Fancy Fairy, Pop Star, Sparkle Fairy, Soccer Star and many more, you are sure to find the perfect pretend play makeup for your little lady.
Hannah was so excited to receive the Super Star All Natural Mineral Makeup Play Kit (SRP $29.99) as a surprise gift. She leaped up and down thanking us for her "wonderful very first makeup set". The Super Star set is packed with safe and non-toxic products so that she has everything she needs to dress up as a "star" for imaginative fun. This mineral makeup set features an Electric blue eye shadow, Go Bronze eye shadow, Bubble Gum Shimmer lip balm, Raspberry Shimmer lip balm, Cheeky blush, Red Rocks! nail polish, Think Pink nail polish and an eye shadow applicator. The minerals powers applied nicely and started off subtle but more could be added for a more vibrant color. The lip balms are moisturizing and shimmering with two pretty color options and the nail polishes are water based so she can peel it off without having to use harsh chemical polish removers. Hannah was just beaming as I showed her the proper way to wear makeup and reminded her that a little bit goes a long way. After playing she was easily able to remove her makeup by washing with soap and water.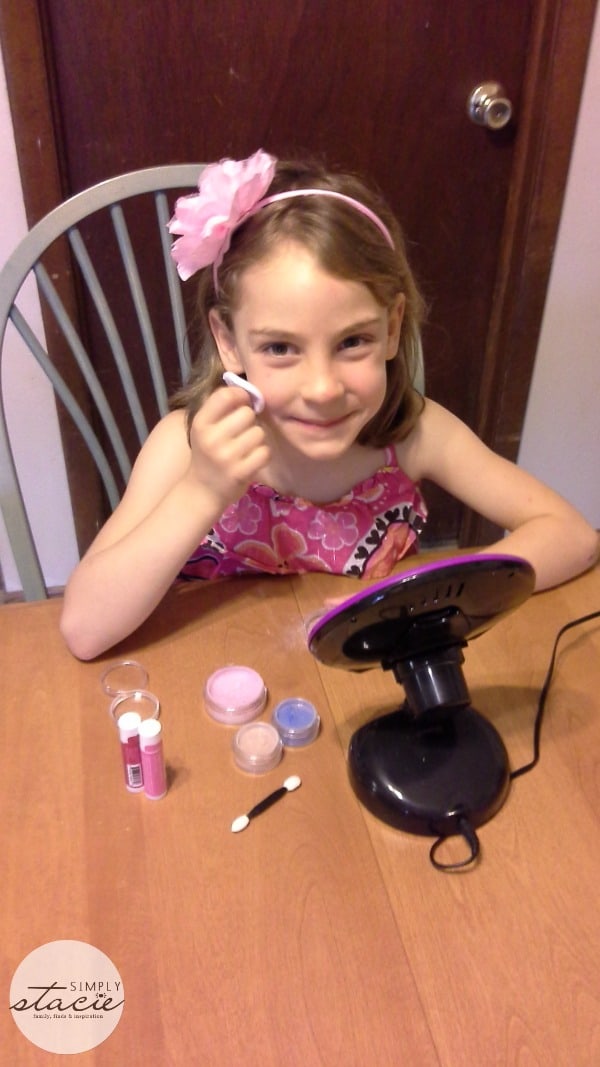 Luna Star Naturals products can be purchased online at their website, at kids' spas, specialty toy shops and natural product stores throughout North America. Don't forget to check out the natural and non-toxic Klee Girls™ line by Luna Star Naturals too which is designed for older tweens and girls who are searching for age appropriate makeup for those first dances, weddings etc. Which Luna Star Naturals or Klee Girls™ makeup would your young girl love the most?
Connect with Luna Star Naturals on Facebook and Twitter.