Book Review | Hidden Girl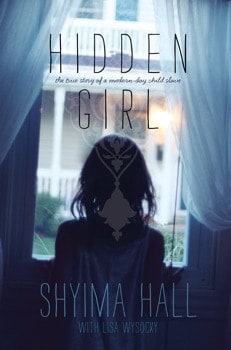 *I received a copy of this book for review, but was not compensated financially in any way. The opinions expressed are my own and are based solely on my experiences while reading this book.*
Title: Hidden Girl: The True Story of a Modern-Day Child Slave
Author: Shyima Hall with Lisa Wysocky
About the Book:
An inspiring and compelling memoir from a young woman who lost her childhood to slavery—and built a new life grounded in determination and justice.
Shyima Hall was born in Egypt on September 29, 1989, the seventh child of desperately poor parents. When she was eight, her parents sold her into slavery. Shyima then moved two hours away to Egypt's capitol city of Cairo to live with a wealthy family and serve them eighteen hours a day, seven days a week. When she was ten, her captors moved to Orange County, California, and smuggled Shyima with them. Two years later, an anonymous call from a neighbor brought about the end of Shyima's servitude—but her journey to true freedom was far from over.
A volunteer at her local police department since she was a teenager, Shyima is passionate about helping to rescue others who are in bondage. Now a US citizen, she regularly speaks out about human trafficking and intends to one day become an immigration officer. In Hidden Girl, Shyima candidly reveals how she overcame her harrowing circumstances and brings vital awareness to a timely and relevant topic. 
My Review: 
I think I must have been living in a bubble because I really had no idea that slavery was still a very real problem in today's society. It's known as human trafficking and Hidden Girl is the true story of a young girl from Egypt who worked as a slave for a wealthy family in Egypt who later moved to the United States. 
Shyima Hall was born into poverty, but still lived in a home where she felt loved and safe. That was until her parents sold her to a rich family for a paltry monthly sum. I guess that idea of selling your children is so foreign to me that it was hard to wrap my head around. However, in many countries it is still done and even though it's illegal, people there turn a blind eye. 
Shyima was worked harder than any child (or adult for that matter) should have to endure. She barely slept and hardly ate. No one was caring for this little girl. Instead, she was looking after a very rich and entitled family who only abused her both mentally and physically. My heart went out to this poor girl and I could feel anger brewing inside of me at how unfair her life was. 
Thankfully, the family moved to the United States and that was the best thing that could have happened to Shyima. She was hidden away from society and barely went out at all. She worked late hours and did the same drudgery as she had in Egypt. Her situation was brutal.
It was the act of one brave soul that changed Shyima's life forever. It makes me tear up to even remember back to this part in the book. One person became suspicious of this child who they probably saw through the windows of the home up all hours of the night cleaning. They phoned the authorities and that one phone call was the catalyst for change. I was cheering for joy when agents came to rescue her.
The rest of the book follows Shyima's journey as she begins to cope with her newfound freedom. It's a struggle for her understandably and she has many emotional issues to work out. There's a lot of anger there and I totally get that. Her childhood was ripped away from her and she is completely justified to feel angry. What I love about Shyima is how determined she is. She has experienced so much horror but has learned to rise about it. Really this young person is an inspiration. She's so strong and very smart. I was rooting for her all the way through the book.
I read Hidden Girl in a matter of days. It was one of those books that is very easy to read and keeps you interested throughout. It really opened my eyes to the reality of human trafficking and also I'm grateful to the introduction to Shyima. Even though it's a book for young adults, I think people of all ages would enjoy this book and maybe even learn a thing or too. Not only did I learn from it, but it also touched me emotionally. I'm grateful for Shyima sharing her story.