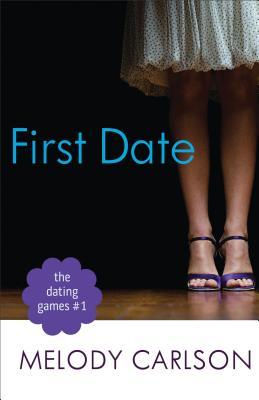 *I received a copy of this book for review, but was not compensated financially in any way. The opinions expressed are my own and are based solely on my experiences while reading this book.*
Title: Dating Games #1: First Date, The (The Dating Games)
Author: Melody Carlson
My Review:
First Date was not quite what I expected it to be. There are certain aspects about it that I really liked and others that were pretty cliché. It's narrated from each of the girls points of view which is great in learning about the characters but it does disrupt the flow a bit. Mainly because each girl has such a different thought process.
I thought it really captured how even girls don't really know what they want. However, I don't know how realistic it is to have a bunch of boys take a pledge from their Principal to stay away from girls for the whole year. It would have to be an awfully compelling lecture to make them agree to that and hold to it.
The execution of the club was done well, though there were time when I wanted to here more about the specifics, what the girls were actually saying to the boys to try and get them to notice them. It felt like there was a lot of talking about what was going to happen and then it would be done, but we missed the whole execution. There are a few moments of flirting, but I would have liked more. I also wasn't a fan of some of the tactics the girls used. It was a relief when there was some open communication near the end. I felt like the boys were a bit more in the know before the date.
Cassidy is a very religious person, which is great, but it did make the book feel a little preachy during her narrative sections. I really liked her moral compass, but I wasn't a fan of the preachiness. Not everyone will mind that kind of thing, but I wanted to put it out there. I did however like that when young girls read this book it will hopefully make them stop and think about how they really feel about dating before they start.
Devon's experience was what felt cliché to me. Everyone will see that coming. But it could have been worse for Devon and I'm glad it wasn't. All the other girls had fantastic dates and, possible spoiler alert, I would have thought that at least one of them would have been interested in trying to pursue a boyfriend from it, but not one of them wanted to do that. I suppose there wouldn't be a second book if they had. The second book is set up really well and I'm interested in reading it. The girls are going to be going on blind dates. Blind dates are always fun, in an awkward kind of way.