Walking With Dinosaurs 3D Review
Disclosure: I was not financially compensated for this post. I received a sample of the product for review purposes. The opinions are my own, based on my personal experience with the product.
My children and I recently enjoyed a screening of the new movie, Walking With Dinosaurs by 20th Century Fox. Walking With Dinosaurs 3D is smart, funny and visually stunning…..it is an exciting family film with heart! In this big screen adventure, my kids and I felt like we were transported back through time for a glimpse into the life of dinosaurs 70 million years ago.
From the moment this film began, there was a hush throughout the theatre and it remained quiet despite the theatre being filled with kids of all ages. The children (and adults too) were captivated from start to finish and the only sounds that could be heard was laughter, gasps of amazement and spontaneous applause at the end.
Based on the popular BBC series of the same name, Walking With Dinosaurs 3D is visually breath taking as it features glorious Alaskan and New Zealand backdrops along with realistic looking computer generated dinosaurs. Directed by Barry Cook and Neil Nightingale, the scenery and attention to details are stunning and I really appreciated the use of the natural environment.
Creatively narrated by an Alexomis bird named Alex, this story features a young dinosaur named Patchi who is the runt of his litter. He looks up to his father who is the leader of the Pachyrhinosaurus herd and lives with his mother and his big brother, Scowler. He is also smitten by a sweet young female dinosaur named Juniper. As the herd sets out on their annual winter migration they face adversity and ultimately Patchi and Scowler find themselves alone. Patchi will battle the environment, other dinosaur species and even his own brother, Scowler. Will Patchi be able to prove to himself and the herd that courageous, brave leaders come in small packages (even those with a hole in the fringe on top of their head)?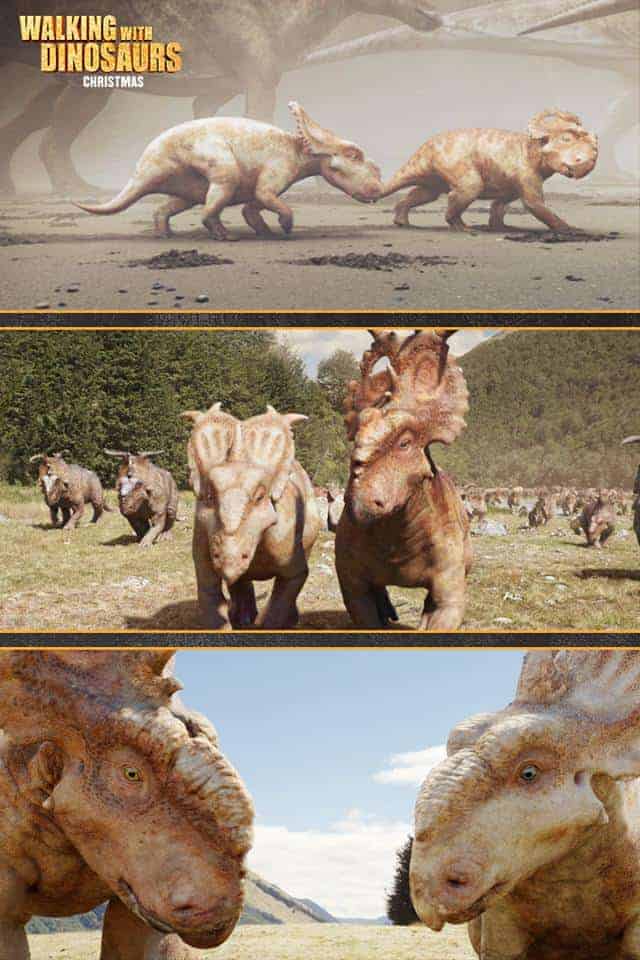 My children are ages 6, 7 and 8 and while there are realistic creature fight scenes with death in this PG rated movie there is no blood or overly scary scenes that frightened them at all. There are silly dinosaur poop jokes which elicited lots of giggles from the children and the comedic banter helped to lighten up some of the more realistic scenes. From a teacher standpoint-I appreciated that this film introduces each new species of dinosaur through a child narrator including both its Latin name with English translation. In my opinion, Walking With Dinosaurs attempts to inform the audience about dinosaurs while entertaining and while the story line and humor may make this different than the original series it still hit the mark in terms of inspiring my own children to want to learn more about dinosaurs. Long story short…..we loved it!
Connect with Walking With Dinosaurs on Facebook and Twitter.