Pinypon Snow Ski Lodge & Snow Adventure Car & Tow Review
Disclosure: I was not financially compensated for this post. I received a sample of the product for review purposes. The opinions are my own, based on my personal experience with the product.
I recently had the opportunity to introduce you to Pinypon toys which are made by the popular European toy maker, Famosa. This holiday season there are lots of great additional Pinypon playsets available to choose from including the Pinypon Snow Ski Lodge and the Pinypon Snow Adventure Car & Tow.
Pinypon is a creative and fun toy line because it feature miniature dolls, outfits and accessories in which children can mix and match the different heads, hair, mid-sections and feet to create completely unique new characters. The playsets and accessories are also very interactive so children are sure to get hours of fun playing with their new Pinypon toys.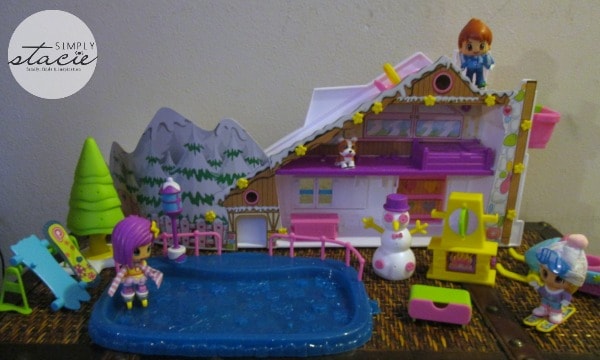 The Pinypon Snow Ski Lodge playset ($39.99) was a big hit with my children who live in Florida so they are captivated by the idea of "playing" in the snow. In my opinion, this wonderful playset is an amazing value as it includes over 50 accessories! Kids can take their Pinypon friends sledding, ice skating at the ice rink, for a snow mobile ride and even skiing at the resort with hot cocoa at the lodge. It features a "real" ice skating rink which got "oh's and ah's" from my kids when we actually froze the water to make it authentic and the ski lift was another extremely popular part of this set. In fact, the Pinypon friends can take turns using the working lift and then sledding or skiing down the real ski slopes back down to the lodge. The snowman accessory is adorable and festive and the attention to detail for each accessory is quite impressive. My children and I like that this set features bright colorful dolls and accessories and it is very easy for even young children to mix and match the pieces.
The perfect addition for the Snow Ski Lodge playset is the Pinypon Snow Adventure Car & Tow (SRP $12.99) which has everything our little Pinypon friends need for a snow ski vacation including a car, tow, skis, luggage, snow board, ice skates and more. Get ready to watch your child playing for hours of fun…….hot chocolate anyone? My boys absolutely had a blast playing with this car. They put all of the accessories into the tow carrier for easy storage and there were lots of neat places for them to open up and explore. You really get your monies worth when you purchase the Pinypon Snow Adventure Car & Tow!
Pinypon toys are sure to be a hit this year with children ages 4 and up and would be a great holiday gift idea. You can purchase the Pinypon Snow Ski Lodge and the Pinypon Snow Adventure Car & Tow at Toys R Us locations and online.
Connect with Pinypon USA on Facebook, Twitter and YouTube.