Mohawk Valley Trading Company Review
Disclosure: I was not financially compensated for this post. I received a sample of the product for review purposes. The opinions are my own, based on my personal experience with the product. This post contains affiliate links.
I buy a lot of natural and organic foods and personal products for my family. I thinks it's what's best for us, keeping us healthy and active. I love to sample and experiment with different products and different sources for natural products, and I'm always glad to share great finds with my friends and family. One source that I've been sharing lately, and that I'm very happy to introduce to all of you, is The Mohawk Valley Trading Company.
I received a bunch of fantastic products from The Mohawk Valley Trading Company for review.
* 16oz glass bottle Maple Syrup – if you've never had pure raw maple syrup, you're missing out! You'll never go back to the big brands once you've tasted it. Mohawk offers grade A, robust, dark, pure maple syrup made from sugar maple sap. You can taste the purity of it – it is so good. The 16oz bottle sells for $15.
* 1lb glass jar of Raw Summer Wildflower Honey – the smell and texture of this honey is really nice. I love it in my morning tea. My husband likes it right out of the jar – he usually eats a teaspoon of honey a day for its raw health benefit. This particular honey is harvested from April through mid-late August in NY state. This honey sells for $10 on the Mohawk site.
* 1lb glass jar of Raw Autumn Wildflower Honey – same great texture as the summer version, this autumn version also has a great taste to it. This honey is harvested late August through October, and also sells for $10 on the Mohawk site. Both honeys are great for teas, and would be a great addition to any recipe calling for honey.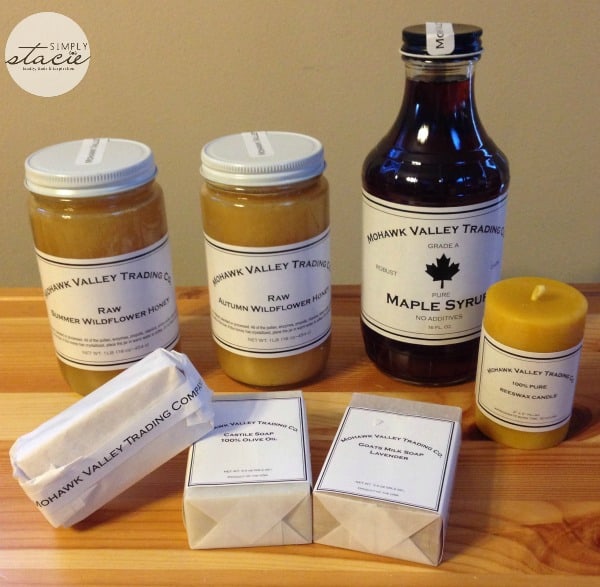 * 2″ x 3″ Beeswax Candle – this is one of those candles that you don't even have to light to enjoy. I like the crisp clean smell of this candle and keep it in my master bathroom. This candle has a 100% cotton wick, and is made with all natural, unbleached beeswax, with a burning time of 30 hours. They are dripless and soot-free. Mohawk sells a variety of sizes and shapes. This size sells for $10.
* Two 1oz bars of Beeswax – I didn't know there were so many uses for beeswax, including as a lubricant for old furniture joints, as a conditioner for wood bowls and cutting boards, unsticking drawers and zippers – the list goes on and on! The 1oz bars sell for only $2 on the site and would be a great item to stock up on considering all its uses.
* 2 bars of Natural Handmade Soap – one Goats milk Lavender Soap and one Castile Soap. There are no chemicals or dyes in these soaps, they are simply made with 100% natural plant-based essential oils. I love not only the texture of these soaps, but also the smells. These bars are $4.50 each.
What I like about the Mohawk Valley site is that it's not just a place to order all natural products – it's a place to learn about them. I really learned a lot about the products I was sent, which I think makes using them all that much nicer. The Mohawk Valley Trading Company sells only the highest quality products from their Utica, NY warehouse. Check out their site to learn more about their products and the different types of honeys, syrups, and soaps they have to offer.