Jewelry in Candles Review
Disclosure: I was not financially compensated for this post. I received a sample of the product for review purposes. The opinions are my own, based on my personal experience with the product.
I always love to give (and receive) candles for the holidays! Liza Coulter's Jewelry in Candles store is an especially wonderful and unique gift idea for anyone who loves candles because it has a real piece of surprise jewelry hidden within each candle. You can choose from a ring or a necklace and you can even select the correct size ring for the perfect fit. In fact, each piece of jewelry will have a random monetary value ranging from $10 up to several thousand dollars!
There are lots of different candles to choose from including glass pillars, wax tarts and aroma beads in a wide variety of scents. I really appreciate that these high quality candles are made with 100% natural soy wax which is cleaner burning (we only use soy candles in our home due to my daughter's asthma) and it has a lovely patina look.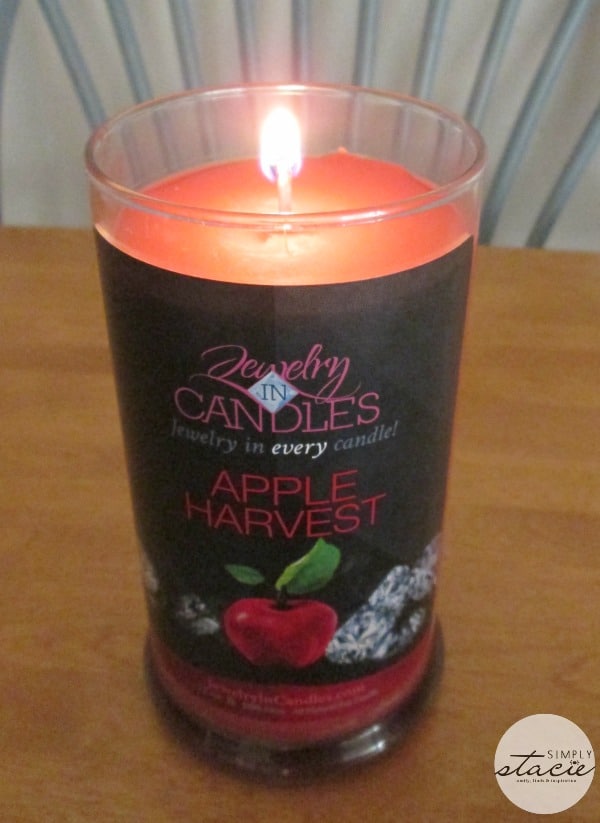 In terms of fragrances there is sure to be your favorite from among the fruit scents, dessert scents, seasonal scents, Home Sweet Home, Corner Café, relaxing scents and the Signature collection. I really love the fresh fruit scent of the Apple Harvest Candle ($24.95) which smells just like a juicy apple with subtle spice notes that is not overwhelming….the perfect blend. It has a pretty reddish pink color and it burns beautifully as part of my holiday table décor. It is a nice size at 21 ounces and it comes in a pretty glass jar with a 100+ hour burn time.
My sister and sister-in-law both love candles so I found the perfect Christmas gift ideas for both of them at Jewelry in Candles. I love that this concept elevates the normal candle that I usually give them because I will choose a necklace for a sister and a ring for my sister-in-law…they will both be so surprised! My sister is sure to love the Hazelnut Coffee Candle and my sister-in-law would appreciate the new Island Hibiscus Candle since she likes exotic scents.
You are invited to visit Jewelry in Candles to browse the entire candle and candle accessories collection….which candle would you love to give (or receive) this holiday season? If you love candles and are interested in learning more about becoming a company rep you can find more information at the website too!
Simply Stacie readers can use promo code discoverjic to receive 25% off your order at Jewelry in Candles!
Connect with Jewelry in Candles on Facebook and Twitter.