GoldieBlox and the Parade Float Toy Review
Disclosure: I was not financially compensated for this post. I received a sample of the product for review purposes. The opinions are my own, based on my personal experience with the product.
My seven year old daughter, Hannah absolutely loves to play with her original GoldieBlox toy, GoldieBlox and the Spinning Machine. Therefore, I knew that she would be thrilled to learn that this innovative brand has just launched the second toy in this award-winning line: GoldieBlox and the Parade Float!
Recommended for ages 4-9, this ingenious toy line was created by founder, Debbie Sterling who sought to provide girls with an engineering toy that might encourage them to become the world's next top builders when they grow up. Using engineering principles in a way that is appealing to young girls, GoldieBlox is a wonderful toy that inspires girls to use their imaginations while playing with this construction toy designed just for them.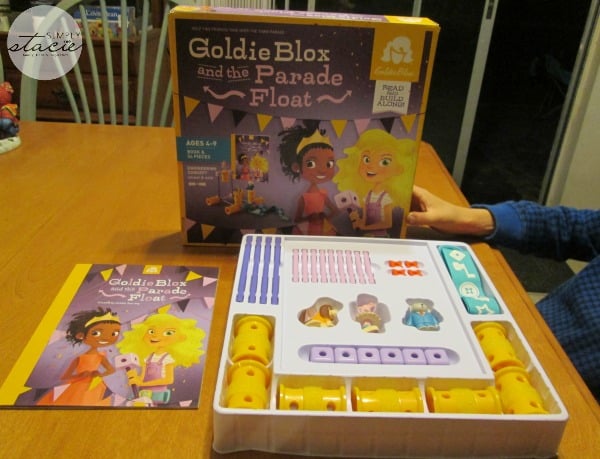 GoldieBlox and the Parade Float (SRP $19.99) features Goldie who is a young inventor and she is confident, smart and creative. In this latest adventure, Goldie introduces us to her new friend, Ruby Rails. The toy includes a story book that sets the stage and features Katinka, a pink dolphin who is upset after losing the "Little Miss Princess Pageant" so she won't be able to ride the special float in the town parade. Not to worry because Goldie and Ruby Rails come to the dolphin's rescue by building their own awesome float for the parade! The fully illustrated story book is also conveniently the instruction manual so that little girls can build an actual "working" float design and have their own parade party.
My children love that this is an interactive toy that is a hands-on manipulative. They can follow the instructions to build their own parade float and they can get even more creative and use the parts for open ended play. GoldieBlox and the Parade Float includes the read-along book and instruction manual, 13 axles, 6 blocks, 1 ribbon, 7 wheels, 4 spacers, 3 characters, 1 band and 9 different design ideas. Once the child has read the story and built a design it is exciting to take it for a spin to watch it in action.
My children and I love the original Oppenheim award-winning GoldieBlox and the Spinning Machine as well as this latest release, GoldieBlox and the Parade Float. The fun, interactive story and colorful, smart characters (we love that the females are in charge in this story and toy) are very appealing to my daughter and I am confident that this toy is also going to be a big hit.
GoldieBlox and the Parade Float is currently available for purchase at Toys "R" Us stores nationwide and would be a wonderful gift idea this holiday season. It is just the type of toy for little girls that is sure to get hours and hours of play because it brilliantly combines education, entertainment and of course, lots of fun.
Watch out boys…….the girls are ready to compete with GoldieBlox toys!
You are invited to visit GoldieBlox to see this product in action and purchase one for a very special girl in your life!
Connect with Goldie Blox™ on Facebook and Twitter.