Dino Meal Review
Disclosure: I was not financially compensated for this post. I received a sample of the product for review purposes. The opinions are my own, based on my personal experience with the product.
My six year old son, Jacob absolutely loves to play games and asks every day he asks to play his favorite ones. Therefore, I am always seeking fun games that he and his siblings can enjoy playing together. Goliath Games has a wonderful selection of entertaining games for kids and the entire family such as Wordsearch™ Junior, Toss the Pig™, Domino Rally, Stixx™, Ghost Castle and many more.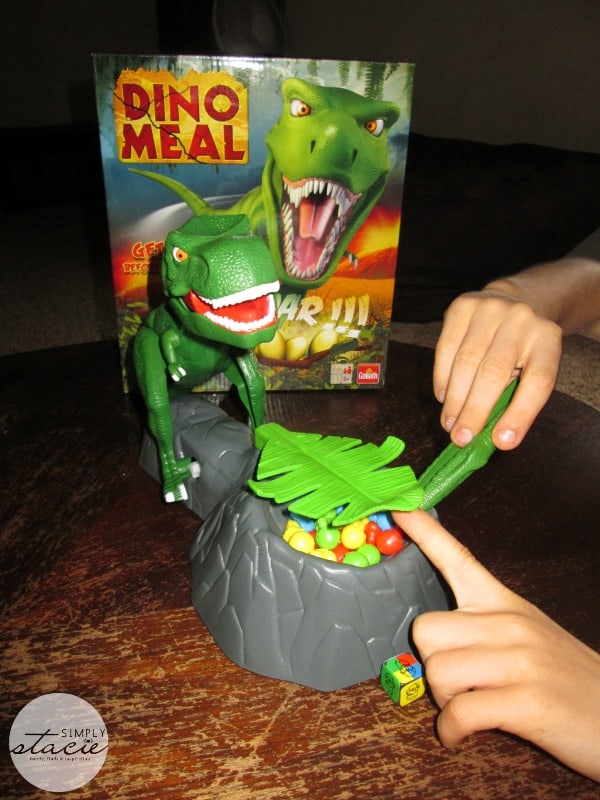 Jacob and his brother, Adam love dinosaurs so I knew that they would both love the Dino Meal™ game from Goliath Games. Recommended for children ages 4+, this exciting game can be played by 2-4 players. The star of this show is the big, green Dino who is so hungry that he has stolen another dinosaur's eggs. It is up to the players to help the Mama Dino rescue her eggs. Each player will roll the die which tells them which color egg they must try to rescue first. Then they must carefully lift the leaf, using the pair of tweezers to lift out that colored egg. WATCH OUT! At any moment the "ferocious" dinosaur may leap out to stop the player from rescuing the egg. The winner is the player who have gathered the most eggs before the Dino gets you.
I like that Dino Meal™ was very easy to set up and within minutes the kids were ready to play. At first there were lots of giggles as the Dino leaped out at them when they were trying to grab the eggs. Then I noticed that Jacob and Adam had a look of determination on their face as they focused on the task at hand. I also appreciate that this game involves the skill of hand/eye coordination too as my youngest son had sustained a severe burn injury a few years ago and need to practice using that hand for sustained mobility. Overall, this game is so much fun and I highly recommend it as a great gift idea for any little boy or girl who loves dinosaurs!
If you are looking for additional game ideas for children of all ages there are other games at Goliath Games that would be perfect such as Stick Storm™ Cobra Strike which is recommended for ages 7 and up. This is a unique game that allows players to create "stick bomb creations" similar to those make by Tim Fort, The Kinetic King!
You are invited to visit Goliath Games to browse the entire selection of fun games for the children and the family. These would be fun games for holiday parties or winter days spent indoors. Goliath Games can be purchased online or at retailers such as Walmart, Toys R US, Kmart and more. Which game would be your family favorite?