Disclosure: I was not financially compensated for this post. I received a sample of the product for review purposes. The opinions are my own, based on my personal experience with the product.
When you are completing your last minute holiday shopping be sure to check out the fabulous Secret Garden collection available at Crabtree & Evelyn online or at a store location near you. Crabtree & Evelyn has the most luxurious bath, body and home care products for everyone on your list including men and women. From hand care, fragrances, bath and shower gels, soaps, scrubs and gift sets, Crabtree & Evelyn can help you finish your shopping with wonderful gift ideas.
The Crabtree & Evelyn Holiday 2013 Secret Garden Collection highlights botanically based products that have been inspired by the beauty of nature. The Floral Mini Hand Trio (SRP $22 and currently on sale for $15.40) is the perfect gift idea for winter because it includes Crabtree & Evelyn's signature hand therapy in a beautiful botanically themed gift box. It features three products i.e. the Lavender Ultra-Moisturizing Hand Therapy, Nantucket Briar Hand Therapy and Rosewater Hand Therapy. These rich oil based moisturizers really helped my dry skin as it is created from macadamia nut oil, Shea butter, myrrh extract and cermides. The floral scents are glorious and I especially like the lavender. My young daughter, Hannah and I both have extremely dry, cracked hands because of frequent hand washing and the Hand Therapy has been so effective to lock in much needed moisture. It seems to provide a barrier and is very soothing to our skin. I love that a small amount goes a very long way and the effects really last so our hands feel softer and smoother.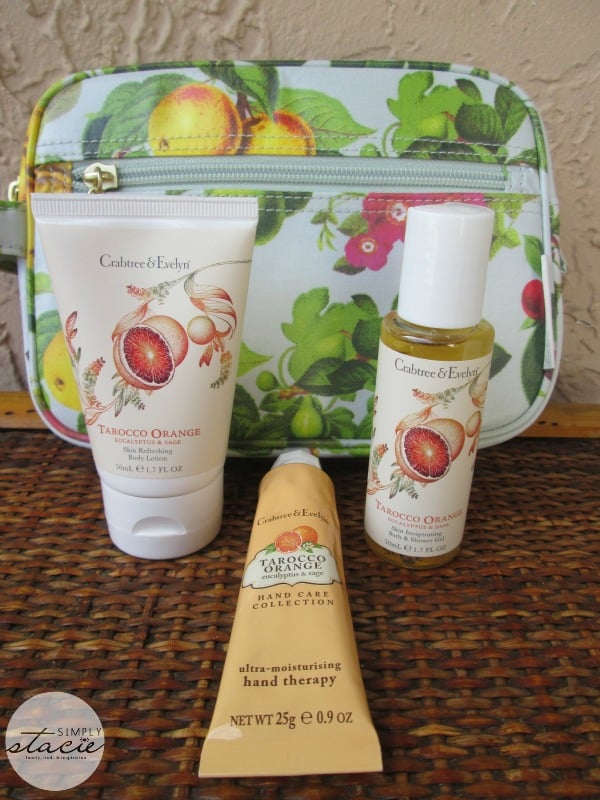 I love the Crabtree & Evelyn Tarocco Orange, Eucalyptus & Sage Mini Trio (SRP $22) which includes an Ultra-Moisturizing Hand Therapy, Skin Invigorating Bath & Shower Gel and Skin Refreshing Body Lotion. The scent is so refreshing as though it is bursting with ripe, juicy oranges with just a hint of herbal sage and Eucalyptus……wonderful. These three products are the perfect sizes to take along for travel and the lovely bag can be reused for jewelry, makeup or toiletries.
You are invited to visit the Crabtree & Evelyn website to find a store location nearest to you and browse the entire holiday collection online. There are so many luxurious products to choose from in a variety of attractive price points for every budget. Which Crabtree & Evelyn gift set would be your favorite to give (or receive)?