Beats by Dr. Dre Solo HD Headphones Review
Disclosure: I was not financially compensated for this post. I received a sample of the product for review purposes. The opinions are my own, based on my personal experience with the product.
John and I do not share the same taste in music. As cliché as this sounds, he's more country and I'm a little rock n' roll. He doesn't enjoy listening to my music and vice versa. I also like to play relaxing meditation music, and if John's in the room playing a game on the computer, he argues with me to shut it off. I only could listen to my music when he wasn't around. 
Thankfully, I found the perfect solution to my dilemma and am now peacefully enjoying my favourite songs and there's been no more fights with John about it! I simply put on my new Beats by Dr. Dre Solo HD™ Headphones hooked up to my iPhone playlist and close my eyes and relax. I can't tell you how much I've missed just immersing myself in my favourite songs!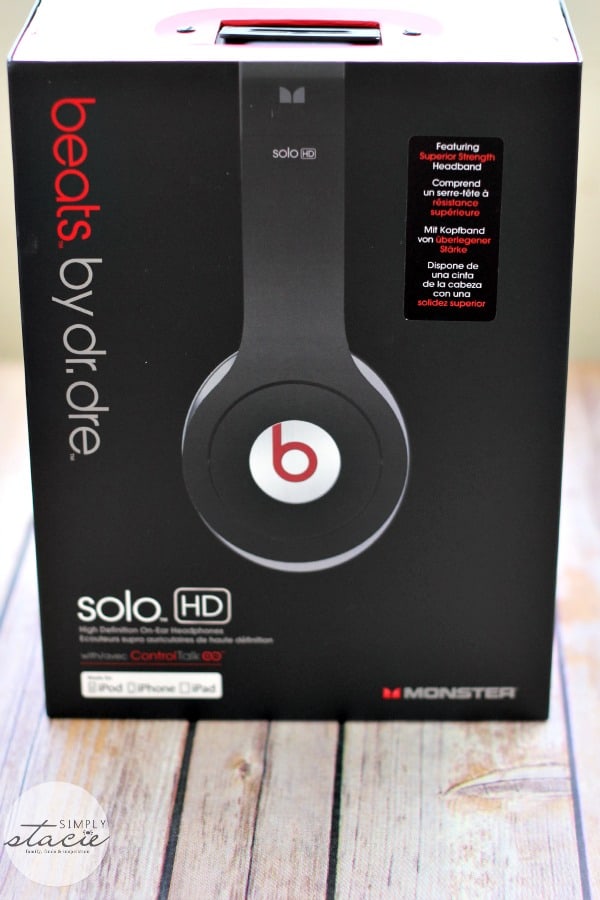 I used to listen to Dr. Dre's music when I was a teenager. In fact, I probably still have the cassettes somewhere in my basement. I thought it was neat that he created the Beats by Dr. Dre line of products. He started Beats by Dr. Dre with fellow music producer, Jimmy Iovine, with the goal that people should not only hear the music, but also feel it. They wanted people to feel as they were in the recording studio with the artist themselves.
It's been years since I've worn headphones of any kind. I think the last set I wore was on my walkman! Eek! I can't even compare the difference in quality between my Beats by Dr. Dre Solo HD™ Headphones and my old cassette walkman. They are world's apart in every single way!
Beats by Dr. Dre Solo HD™ Headphones are on-ear headphones that are stylish and practical. At first glance, I thought they would be heavy on my head, but they are quite light at 0.35 lb! I barely even noticed them. I never could get used to wearing ear buds and these are so much more comfortable to wear. They are also compact and can be stowed in a purse or carrying bag. They come with their own carrying case and cleaning cloth. 
The best part though is the sound quality. Music sounds amazing! The sound quality is mind-blowing in high-definition. I'm noticing notes in the background of my favourite songs that I had picked up on before. When I want to listen to music, this is my favourite way to do it with my Beats by Dr. Dre Solo HD™ Headphones.
They're also sleek and stylish and are made of a durable yet flexible material that won't come apart. Mine are black, but I also like this red pair I found on Staples.
Another cool feature is the built-in mic that lets you switch seamlessly between music and incoming phone calls. You just press the button on the ControlTalk to toggle between the two modes. This area is also where you control the volume. You can use them with your iPod, iPad, iPhone or BlackBerry.
If you're looking for a last minute gift, the Beats by Dr. Dre Solo HD™ Headphones would make an awesome gift. Also, if you're looking for something to buy for yourself with your Christmas cash, pick up a pair at Staples! They are $219.95, and if you order online you also get free shipping (orders over $45). I've ordered a few times from Staples online, and the shipping was lightning fast. I think they have the fastest shipping I've ever personally experienced.
I'm loving my new headphones and have been downloading lots of new music on my iTunes. I now can listen and enjoy music, so I'm very happy!
Connect with Staples Canada on Facebook & Twitter.