Disclosure: I was not financially compensated for this post. I received a sample of the product for review purposes. The opinions are my own, based on my personal experience with the product.
I love the fall season and enjoy eating many foods from nature's harvest. Way Better Snacks is one of our family favorites and it is a hit with all of us including our three children. I was very excited to learn that there is a Limited Edition Season's Eatings from Way Better Snacks called Oh, My Sweet Punkin Cranberry Tortilla Chips!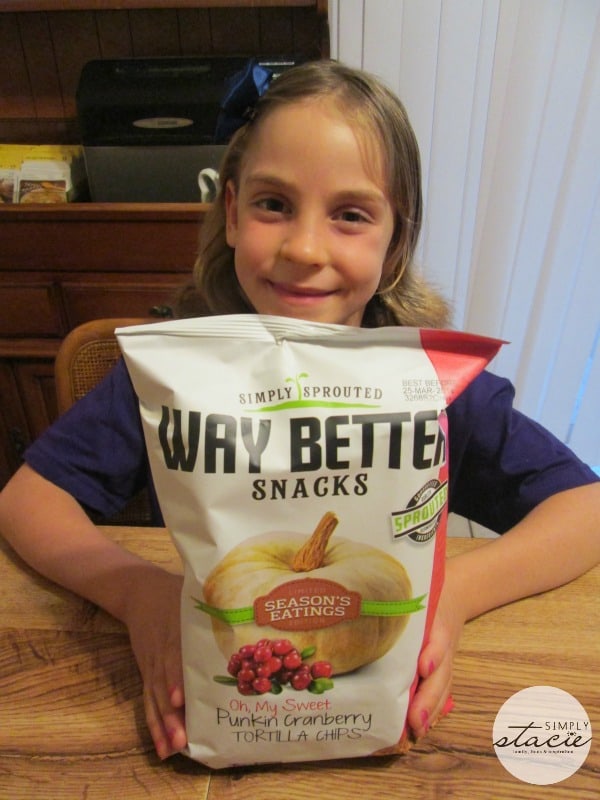 "Oh, My!" is the correct description because these tortilla chips are extraordinary and very delicious. I love that I can serve my family a healthier chip that includes 420 mg of Omega 3 essential fatty acids and the highest quality sprouted grains and seeds. In addition to being nutrition the flavor combination of lightly sweet, tart cranberry and raspberry and pumpkin along with stone ground non-GMO corn, sunflower oil, organic sprouted flax seed, organic sprouted quinoa and pure sea salt is perfection in a chip! The chips are crunchy and satisfying with 2 grams of fiber per serving so it makes an excellent afternoon snack when the kids are hungry after playing outside. These are the perfect chips to "wow" your guests at Thanksgiving or holiday gatherings!
I was originally drawn to Way Better Snacks when I was looking for convenient, healthier snack ideas for my children. I really appreciate that all of the products at Way Better Snacks are made using non-GMO ingredients with no trans fats, artificial colors, flavors or preservatives. Instead the delicious taste comes from sprouted ingredients such as flaxseed, chia seeds, quinoa, black beans, broccoli seeds and even daikon radish seeds (very tasty). My daughter's pediatric pulmonary specialist had recommended several servings of chia seeds and Omega 3 essential fatty acids per day so I personally think these products are a great way to get these foods into her body and possibly boost her immunity.
There are six original varieties available from Way Better Snacks and we enjoy all of them regularly in our home including Simply Sunny Multigrain, Simply Sweeet Potato, Simply Beyond Black Bean, Simply So Sweet Chili, Simply Unbeatable Blues and No Salt Naked Blues. Another fall favorite for our family are the delicious Simply Sweeet Potato Tortilla Chips which is packed with sweet potatoes providing a source of Vitamin A.
I am definitely going to stock on up the Limited Edition Season's Eatings, Oh, My Sweet Punkin Cranberry Tortilla Chips for my family and to serve at our holiday gatherings with friends and family. Way Better Snacks has launched the Oh, My Sweet Punkin Cranberry Tortilla Chips which are available at retailers throughout the United States and Canada and will be available through January, 2014. You are invited to visit Way Better Snacks to learn more about this product and find ordering information or a store location near you.