Waking Up with Folgers Gourmet Selections Mocha Swirl
Disclosure: I was not financially compensated for this post. I received a sample of the product for review purposes. The opinions are my own, based on my personal experience with the product.
My morning routine would not be complete without a cup of coffee. There's nothing better than taking that first sip to get me up and running. I end up drinking a few cups of coffee throughout my day to keep me going. However, that first cup is always the best! I couldn't imagine my day without it.
The flavour of coffee I drink really depends on my mood. The one thing I look for is for it to be piping hot, fresh and easy to make. I use my Keurig brewing system to make single serve coffee and love the convenience. Plus, it opens up a whole new world of coffee flavours!
Folgers Gourmet Selections
I've been starting my morning with Folgers for years. It made sense when I switched over to the Keurig brewing system that I try Folgers K-Cups. Not only does Folgers offer the Classic Roast in K-Cups, but they also have created a world of possibilities with their Folgers Gourmet Selections K-Cup packs! There's literally a flavour for everyone whether you prefer light roast, dark roast, decaf or want to satisfy a craving for sweets.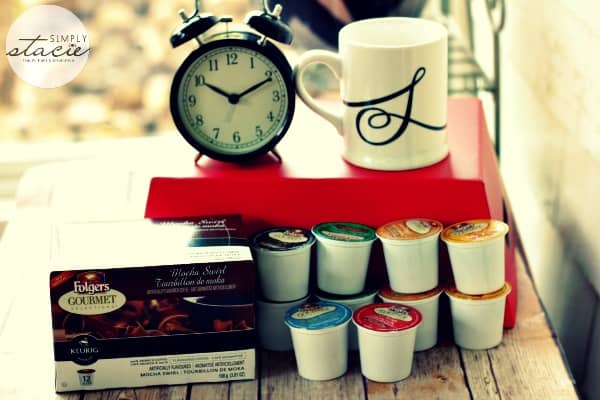 The Folgers Gourmet Selections K-cup packs include the following flavours:
Vanilla Biscotti
Caramel Drizzle
Black Silk
Lively Colombian Regular or Decaf
Morning Café
Classic Roast
Mocha Swirl
I was so happy to see that they recently added a new Mocha Swirl coffee flavour to their K-cup product line just in time for Daylight Saving Time. After tasting it, you'll want to get out of your bed in the morning to enjoy a little bit of chocolate heaven!
I could smell a rich dark chocolate scent wafting up from my Keurig as I was brewing my morning cup of Mocha Swirl. I always add a little bit of cream to my coffee. As I sipped my hot coffee, it felt almost indulgent! I don't eat very many sweets because of my diet and I tend to satisfy my cravings for sweets through flavoured coffee. Mocha Swirl is one that I'll be coming back to again. It has a subtle mocha flavour that goes down so smooth. It makes those early mornings so much more bearable and dare I say enjoyable?!
Canadians and their Coffee
I'm in good company. Canadians love their coffee. Folgers conducted a survey and discovered some interesting findings about how Canadians like their coffee. It was neat to learn how I compared to my fellow Canadian coffee drinkers. Here are some of the highlights:
88% of Canadians are coffee drinkers. No surprise there! Practically every adult I know drinks coffee at least once a day.
84% of Canadian coffee drinkers who have tried single serve coffee enjoy it for the convenience (38%) and the variety (27%). I think the Keurig brewing system is one of the best inventions ever. Now that I've tried it, I'll never go back. It's great to not have to waste a pot of coffee if there's only one person drinking it. Plus having access to a variety of different flavours is an added perk.
20% of Canadians enjoy the sweet tasting coffees like mocha, vanilla or caramel. That percentage increases to 33% for the ages 18 to 34. Flavoured coffee is yummy so I'd have to say I agree!
48% of Canadians morning ritual consists of catching up on the news while enjoying their morning cup of coffee. I usually check the news first thing in the morning via the app on my phone.
20% of Canadians age 18 to 34 drink their coffee in transit. Thank goodness for travel mugs!
42% of people in Western Canada enjoy their coffee dark and bold compared to only 20% of people in Atlantic Canada and 24% of residents of the Prairies. I drink dark coffee once in a while, but it's not my typical go-to blend.
There's pretty much a Folgers Gourmet Selections K-Cup for whatever your preference. If you haven't tried their K-Cups yet, head on over to your local grocery store or big box retailer including Sobeys, Metro and Walmart. They retail for approximately $8.99 for a 12 pack and $11.99 for an 18 pack. I think you'll discover that they brew a darn good cup of coffee!
For more information, check out Folgers online or join the conversation on Twitter with the hashtag #Folgerskcuppacks
What's your favourite flavour of coffee?