50% Off Sale on Tasty Food Photography
This post contains affiliate links.
One of my favourite food blogs, Pinch of Yum, is having a holiday sale on their ebook, Tasty Food Photography! The sale is for 50% off with the coupon code: TFP50. It normally costs $19, but with this special coupon code you'll only pay $9.50. I purchased the book a few months ago because I wanted to learn more about how to improve my food pictures. I found it very helpful and practical and I'm slowly plugging through it and putting what I learn into practice. It's well worth it in my opinion!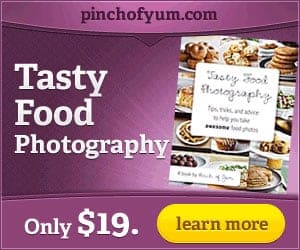 The sale runs from Thursday through till Monday at 11:59 pm. Remember use the code TFP50 to save 50% off!  Visit Pinch of Yum to learn more and to purchase.