Rubbermaid Reveal Power Scrubber Review
Disclosure: I was not financially compensated for this post. I received a sample of the product for review purposes. The opinions are my own, based on my personal experience with the product.
While I don't necessarily look forward to cleaning the house, it is definitely gratifying when our home is sparkling clean. Instead of scouring and scrubbing all day long the traditional way cleaning has been revolutionized with the new Rubbermaid Reveal Power Scrubber! This innovative product can help you clean up to twice as fast as normal manual scrubbing and makes cleaning a much less tedious task.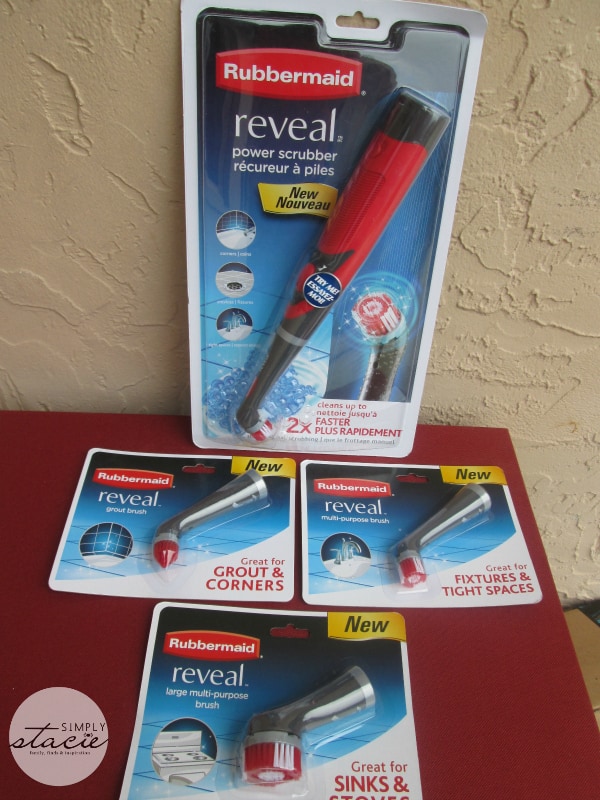 The Rubbermaid Power Scrubber has an oscillating head that scrubs a whopping 60 times per second and has additional interchangeable heads including a Reveal Grout Brush, Reveal Multi-Purpose Brush and Reveal Large Multi-Purpose Brush.
We have family coming to stay with us for a few weeks before the Thanksgiving holiday so I always make sure to do a deep cleaning which is quite the task. It was so much easier cleaning my kitchen and bathroom using the Rubbermaid Reveal Power Scrubber ($19.99) and interchangeable heads. I used the power scrubber to clean general areas and then added the Reveal Large Multi-Purpose Brush ($6.99) to effortlessly scrub away grease and grime from the stove, counter tops and sink. It was so easy to snap on the correct cleaning brush and with a touch of a button the power scrubber was working. You can choose from continuous or pulse scrubbing settings and it has an amazing six volts of power for the most difficult tasks. To get into those tight corners and crevices I used the Reveal Grout & Corners Brush ($6.99) and it actually took off spots that have been driving me crazy for weeks…..squeaky clean! For our stainless steel faucets and the shower rail, I used the Reveal Multi-Purpose Brush for Fixtures & Tight Spaces ($6.99) and it worked great.
While I may never actually love cleaning itself, I do LOVE the Rubbermaid Reveal Power Scrubber brush and accessories. It has really made this task easier for me and is perfect to help this busy mom keep a tidy house without spending hours and hours to do it. It would also make an excellent gift idea for someone like my elderly mom who has difficulty since breaking her wrist recently. You are invited to visit Rubbermaid to learn more about this product and get purchasing information for the U.S. and Canada.
The Rubbermaid Reveal Power Scrubber is available for purchase at Home Depot, Loblaws and London Drugs! You are invited to visit Rubbermaid to browse the entire selection of high quality, durable cleaning aid products.