Capturing Fall Moments with the Nokia Lumia 1020
Disclosure: I was not financially compensated for this post. I received a sample of the product for review purposes. The opinions are my own, based on my personal experience with the product.
Over the past two years, I've discovered a new passion: photography. I'm nowhere near an expert and am learning as I go. All I know is that I'm having fun and really enjoying the entire process from setting up the shot to capturing a quick moment and then sharing them later on with my family, friends and readers. I don't bring my DSLR with me that many places because of the size, but I always have a smartphone with me. Lately, I've been trying out the Nokia Lumia 1020 thanks to TELUS. I have to say that the camera on it blows my iPhone's camera right out of the water. There's really no comparison. The Nokia Lumia 1020 has a camera that is perfect for people who love photography.
The Nokia Lumia 1020 comes in two colours: black and yellow.  Mine is black, but you can see what the yellow one looks like pictured on the box below.  It's nice and bright and you won't have any trouble finding it in a messy purse!
I also have a Camera Grip for Lumia 1020. It's a case that goes over your phone and lets you better grip the phone when you're taking pictures. It really does look like a camera! You can still easily charge the phone with it on and use it like you normally would. It even has a Universal Tripod Mount and wrist strap!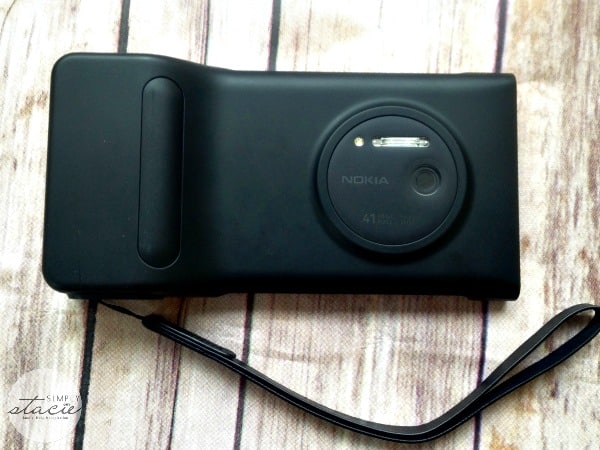 The day the Nokia Lumia 1020 arrived at my place was the same day we were leaving for a trip to Ontario to visit family for the Thanksgiving long weekend. I didn't bother bringing my DSLR on the trip and only used the phone to capture the occasion. I hate flying with the big DSLR and the Nokia Lumia 1020 fit easily into my purse. It was a no-brainer on which one to bring.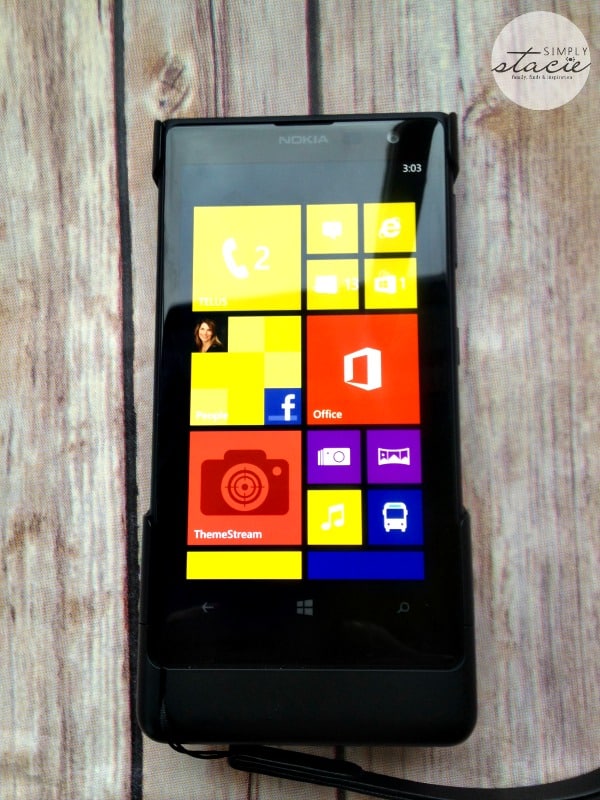 I took loads of pictures while we were there! I was sharing a few of them on personal profile on Facebook and I've got a bunch here to show you from our trip. These images were all taken with the Nokia Camera on the Nokia Lumia 1020. The only editing I did outside of the phone's capabilities was the addition of my watermark and resizing to fit the width of my blog. 
These two pictures are the front of my parent's house. My mom always does such a beautiful job landscaping. 
She has some Fall Mums and pumpkins on the front step. My dad is a huge joker and said that skeleton is my sister, Laura. Someone would ask,"Where's Laura?" and he'd say she's out front on the step!
The Nokia Lumia 1020 is Nokia's newest smartphone and it features a 41-megapixel camera sensor, Optical Image Stabilization and high-resolution zoom. It's camera like I've never before experienced on a smartphone! It takes beautiful portrait shots. 
I love this action shot I captured of my cousin's son, Connor. He was over at my parent's house for a quick visit and we were taking pictures of everyone jumping on the deck.
I hadn't seen my two younger sisters in years. My mom insisted on taking our photos on the couch in her living room. My mom loved how easy it was to take a gorgeous photo with the Nokia Lumia 1020. She tried to keep it when I was leaving to go back to Nova Scotia! 
We also had our photos taken in the kitchen after Thanksgiving dinner. This time, my was in the shot. That's me on the far left, Jillian, mom and Laura. They are funny about pictures and kept saying "don't tag me on Facebook!". I guess they will add their own tags if they like the picture. These ones were keepers so I know they won't mind my sharing here.
The camera really brings out the vivid colours of your subject. You can shoot completely in Auto mode and let the camera choose the best settings for the shot or if you prefer more control, the Nokia Camera let's you pick the settings! It's a bit like shooting in Manual with a DSLR where you have more control over the camera and the images. 
You can adjust the brightness and control how much light you let into your photo. Controlling the shutter speed helps when you have an action shot and need it to be fast to capture it. You know those photographs where they show cars at  night on a highway and they make it look really cool with the blurred trail of lights? You can do that with this camera by selecting a slow shutter speed. I don't live near a city so there aren't enough cars near me to get a good picture. I tried it on the tutorial and it was pretty neat!
Indoor lighting is always trickier for me because the pictures always turn out so dark! You can bump up the ISO which adjusts how sensitive the camera is to light. If you find it's too dark, move your ISO up a bit and then see what happens. It does the same thing as it would with a DSLR and will also add more noise to your image.
It's also really easy to adjust your focus. You can focus on one thing and create a gorgeous blurry background. In this photo, I zoomed in on the leaf and it made the background out of focus like you would by changing the aperature on a DSLR.
White balance is key to taking a great shot. The camera has an auto white balance, but you can also adjust to whatever your lighting is for the shot. In the above photo of the leaf, I changed the white balance to "Cloudy" since it was an overcast day. You can easily see what will look best though by just a touch of the screen. Even if you don't fully understand what all the settings mean, you can still get a great shot by using the settings that you think look the best for that image.
These are a few of my favourite fall moments captured on the Nokia Lumia 1020. I still can't get over how vivid the colours are. There's no way my iPhone images would ever be this breaktaking!
In this image, I edited in Nokia Creative Studio right on the phone. I was able to focus on the dog's face and make the rest of the image out of focus. Then I added a black and white filter. You can take out red eye, edit vibrance and clarity, crop, rotate and more. 
I've been mainly shooting with the Nokia Camera, but there's also the Nokia Smart Camera mode. It's neat because it shoots several frames at once with just a click. It shows you the Best Shot, Action Shot, Motion Focus, Change Faces and Remove Moving Objects.
If you need help figuring out the ins and outs of the phone, you can take advantage of the Learning Centre sessions offered by TELUS. I found the Nokia Lumia 1020 to be very intuitive and I was up and running almost immediately. It's super easy to use and even John understood how it worked and this man doesn't even own a cell phone!  Side note: he's told me that the Nokia Lumia 1020 is his phone because of how much he enjoys using it. 
The Nokia Lumia 1020 is available from TELUS with all-new two-year pricing plans with Anytime Upgrades for $199 or month-to-month for $725.
I'm looking forward to capturing more memories with the Nokia Lumia 1020. Next up will be the holiday photos. Maude is already getting into the spirit!
Connect with TELUS on Facebook, Twitter and Instagram.