Lookio Books Review
Disclosure: I was not financially compensated for this post. I received a sample of the product for review purposes. The opinions are my own, based on my personal experience with the product.
I love to give personalized gifts to my children because the excitement on their faces when they open a special gift is priceless. Earlier this year, my son received a personalized, custom kids' book from Lookio Books titled, When Adam Grows Up ($32) and he loves it! This 8" x 10" hardcover book features my son's face throughout the book as he explores a wide variety of occupations such as being an astronaut, a deep sea explorer, professional snow boarder and many more. I customized it with his name as well as a special section where I could write a dedication to him. You can read my full Simply Stacie Lookio Books review to learn more about this title as it is a wonderful gift idea for any special boy or girl.
I recently received a new Lookio book for my daughter called Hannah and the Little Cloud ($32) written by Shawn Currie and with art illustrations by Sarah Sisterson. This customizable story features the option to personalize the name, gender, hair color, skin tone, eye color and even pajama color. The quality of the printed book is excellent (my husband affirms this and he has been a printing press operator for over 23 years) with full color art on glossy paper and a glossy laminated cover that is designed to withstand many readings. The story line was fun and engaging and my early reader, Hannah loved reading this book aloud to her younger brother. She has read this story over and over again and thinks it is so neat that she is featured throughout the book.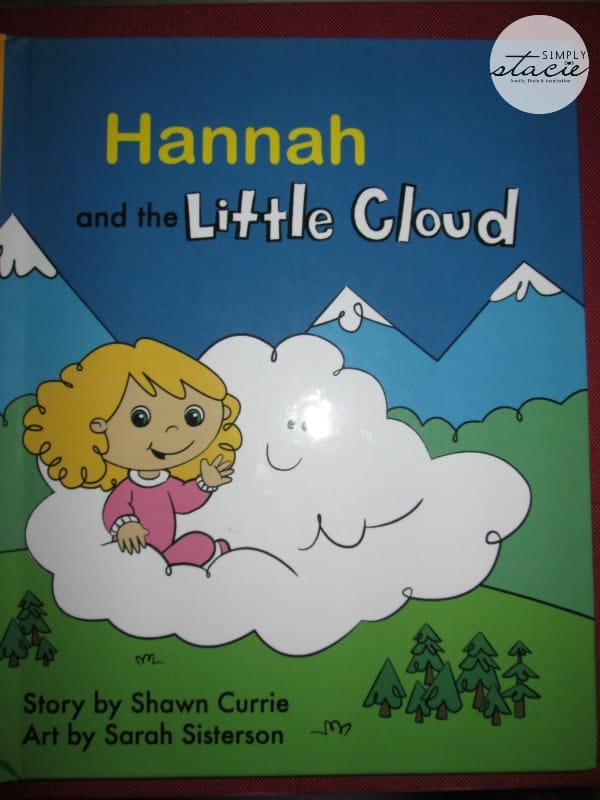 If you are looking for a memorable gift idea this holiday season that is sure to be treasured by a lucky young child then I highly recommend a personalized children's book from Lookio Books. You can choose from Illustrated Character Books including (Name) and the Little Cloud and (Name) and the Rickety Robot or you can choose the Photo Character Book, When (Name) Grows Up.
Connect with Lookio Books on Facebook, Twitter and Pinterest.