Greenbeard the Pirate Pig Toy & Book Set Review
Disclosure: I was not financially compensated for this post. I received a sample of the product for review purposes. The opinions are my own, based on my personal experience with the product.
"Yo HO, Yo HO, A Pirate Pig I be!"
What will happen when an adorable guinea pig leaves his garden home to search for an adventure? In this charming children's picture book story, little ones are sure to love Greenbeard, the guinea pig pirate. Written and illustrated by Andrea Torrey Balsara, Greenbeard the Pirate Pig™ is a delightful and imaginative story that was a big hit with my six and seven year old children. The story is engaging from the start and we loved the funny moments which gave the kids fits of giggles. It is a substantial children's story book and includes small chapters so my eight year old son volunteered to read it to his younger siblings. They loved all of the characters, especially Greenbeard's first mate, a rat named Snug Rumkin whose mission is to teach Greenbeard how to be a "proper" pirate.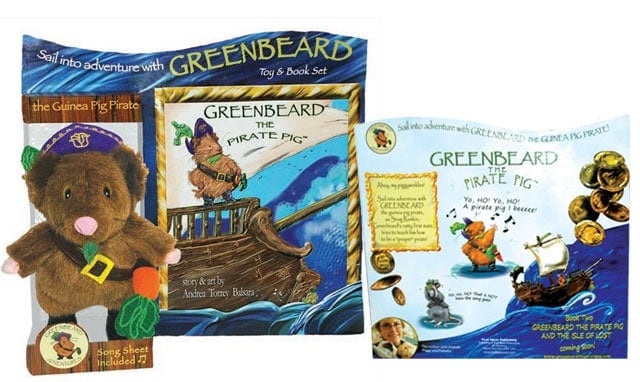 Why is our hero pirate known as "Greenbeard"? He loves lettuce (and carrots) of course…..which I appreciate because at dinner that night my children requested extra salad in honor of their beloved new guinea pig pirate pal. As Greenbeard the Pirate Pig and his mate Snug Rumkin sail the seven seas they go on lots of adventures in their search for treasure. We really enjoyed the whimsical illustrations that captures the characters and storyline perfectly by bringing it to life for little readers.
In the back of the book is the Greenbeard the Pirate Pig theme song sheet which had my children singing and dancing as they started to role play along with their sweet plush toy, Greenbeard the Pirate Pig. This sweet children's book set is available for purchase as a gift set which includes the paperback book, the 8" plush guinea pig pirate toy and the song sheet music for the SRP of only $19.95. This would be the perfect gift idea for the holiday season for any young pirate fan.
You are invited to visit the Greenbeard the Pirate Pig website to order the Greenbeard the Pirate Pig Toy & Book Set. You can also download fun things such as free coloring pages and games in the "Pirates Corner".