Disclosure: I was not financially compensated for this post. I received a sample of the product for review purposes. The opinions are my own, based on my personal experience with the product.
Photography has quickly grown to be a passion of mine. My parents bought me a Canon Rebel DSLR for Christmas in 2011 and I've been hooked ever since. It took me awhile to get the hang of my camera and at first, I only shot in Auto with the flash. The pictures were still much better than they were before on my old point and shoot, but they were definitely not great. I read books and took courses on photography and I had one of my big a-ha moments after taking a How to Shoot in Manual Mode course with Bella Pop. Shooting in manual made a HUGE difference in my photos. I never use the flash or shoot in Auto mode.
My second big a-ha moment came when I got my first set of photography backdrops from Ella Bella. They've really inspired me to get more creative and have helped me improve both my food and product photography. I've been using them for almost all my recipe posts and many of my review posts. You probably have already seen them in a few I've posted already!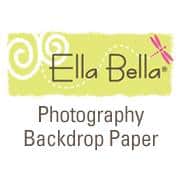 Ella Bella Photography Backdrops have many uses. You can use them with children to take portraits, showcase a product or a recipe you made. They can even be used as YouTube video backdrop. I haven't tried that yet, but it's on my to-do list. They are great for amateur or professional photographers as an inexpensive backdrop option.
The bacdrops are printed on a 50lb paper where each roll is 4' wide X 12' long. It reminded me of a large roll of wrapping paper! It has seamless patterns that are printed with a fade-resistant ink. The backdrops are designed to help minimize light reflection and to enhance your subject.
Ella Bella Photography Backdrops currently are available in four designs: Vintage Wood, Classic Damask, Dots—Soft Pink and Dots—Baby Blue.
On the Ella Bella site, they show you three easy techniques on how to set up your photography backdrops. If you own a backdrop stand, all you need to do is hang the roll from your backdrop stand and pull the amount you need. Then when you're done, roll the backdrop back up and secure with a rubberband.
If you don't have a backdrop, you can cut the amount you need and tape it to a wall. I actually used the backdrops a little differently. I like that they are so versatile so you can use them whatever way works for you with what you have on hand.
I do the majority of my photos in my front enclosed porch. It has the best light in the house and is all windows. I have a little end table in there as well as a few chairs. I cut a piece of each of the backdrops and draped it over a table and also over the back of a chair. It seemed to do a pretty good job and its easy to switch out the backdrops.
I mainly use my DSLR for my photos, but the odd time I will use my iPhone. This picture was taken with my phone using the Baby Blue Dots backdrop.
My favourite backdrop is definitely the Vintage Wood. I've been looking for a wood backdrop forever it seems and came up short! I love the look of it in my recipe posts. I even had a friend ask me if John made me a board to use. I told her "nope, it's actually just paper!". She was shocked because she said it looked like real wood.
The Classic Damask is pretty and I've been using that with my shots of beauty products.
The Soft Pink Dots would be cute to use for portraits for my girls. I used it to take a picture of a pretty pink apron and gloves for a review I recently did.
If you live in the US, you can purchase Ella Bella photography Backdrops at Hobby Lobby, Mardel and Amazon. For us Canadians, you can buy them via Amazon.ca.
I'm motivated to continue to improve my photography and I'm glad that I've found an easy solution for backgrounds that works for me. I want to get another wood background and I'm eyeing this White Washed Wood!
Which backdrop is your favourite?