Disney's PLANES Blu-Ray Combo Pack Review
Disclosure: I was not financially compensated for this post. I received a sample of the product for review purposes. The opinions are my own, based on my personal experience with the product.
My three little aviators and their friends were so excited about the November 19th, 2013 release of Disney's PLANES Blu-Ray Combo Pack! Sporting a Disney's PLANES aviator cap and glasses, they were ready to fly around the world as we viewed this wonderful family film together. As if their love of the Disney movie, CARS wasn't enough………my kids have taken flight in this latest animated adventure set in the clouds featuring Dusty, a crop duster plane with dreams that are sky-high. Dusty aspires to win a competition featuring the world's fastest flyers in the greatest air race ever but unfortunately he is afraid of heights and wasn't built for speed. Undeterred, Dusty proves that he is the most courageous dust cropper of all as he and his colorful cast of friends aspire to soar.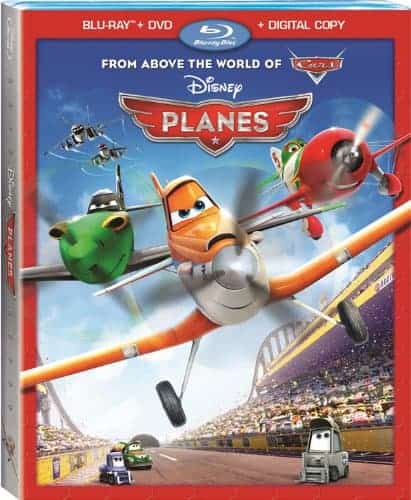 My children and I really enjoyed the themes of friendship, bravery and courage in this fun-filled adventure. There is universal humor that will appeal to children and adults alike and the animation is exceptional. It is also a movie that can be enjoyed by boys and girls and I love how it encourages kids to follow their dreams and seek greatness!
This summer's #1 family movie, Disney's PLANES Blu-Ray Combo Pack includes the Blu-Ray, DVD and a Digital Copy so it is sure to be enjoyed for years to come in your Disney home movie collection. In addition to the movie there are tons of great bonus features for your enjoyment. If you want to learn more about this wonderful movie then head over here to check out the Disney's PLANES Extended Sneak Peek. This film has a wonderful cast as it was directed by Klay Hall ("The Simpsons") and produced by Traci Balthazor-Flynn (Bambi II and Return to Never Land). It includes the voices of Dane Cook, Stacy Keach, Julia Louis-Dreyfus, John Cleese, Val Kilmer, Anthony Edwards and many more as they bring all of the characters to life brilliantly in this movie.
Ever since watching Disney's PLANES on Blu-Ray my three children have had so much fun pretending to be pilots as they fly their glider planes around the yard while wearing their fun Disney Plane's gear. I highly recommend this as the next movie you watch together on your own Family Movie Night!
Connect with Disney's PLANES on Facebook and Twitter.