Clifford the Big Red Dog Bubble Science Review
Disclosure: I was not financially compensated for this post. I received a sample of the product for review purposes. The opinions are my own, based on my personal experience with the product.
My three children are homeschooled and their favorite activities are our weekly science experiments. Through hands-on learning and experiments, they are able to better understand scientific principles and more importantly they are developing a love for science.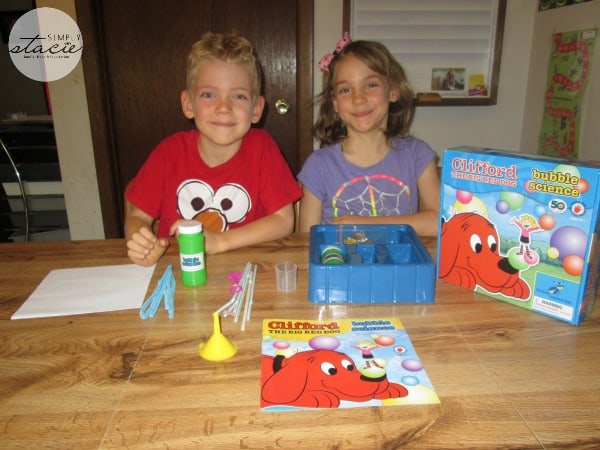 The Young Scientists Club helps even the youngest children explore science with a series of educational and fun science kits featuring Clifford The Big Red Dog. These "Science Kits for Little Hands" are recommended for ages 3+ and include titles such as Clifford the Big Red Dog Bubble Science, Clifford The Big Red Dog Rainbow Science and Clifford The Big Red Dog Kitchen Science. Each kit is reasonably priced at only $19.99 and includes virtually everything you and your child will need to conduct a variety of fun experiments.
All children love bubbles, right? My three kids certainly do so the Clifford The Big Red Dog Bubble Science kit from the Young Scientists Club was a big hit. It includes a ton of fun learning experiments including Bubble Sculptures, Water Bubbles, Colored Bubbles, Bubble Blow Art, Pipe Cleaner Bubbles, Carbon Dioxide Bubbles, Funnel Bubbles and many more. Each kit includes all of the essentials needed for each experiment and I provide a few common items found in my home. There is a detailed experiment guide and with just a few easy steps the kids are conducting their own bubble experiments. My children's favorite experiment in this kit was creating a Gliding Boat. I like that after completing the experiment the activity guide has pertinent information for discussion with the child(ren) including an explanation of the science principles explored in the experiment and questions for them to answer.
The award-winning Young Scientists Club has a wide selection of science kits available for children of all ages including Clifford The Big Red Dog, The Magic School Bus (ages 5-12) and The Young Scientists Series (5-12), Adventure Science Series (ages 5+), Nature Series (ages 5+) and many more. What a wonderful holiday gift idea that is sure to be a big hit. You can purchase individual science kits or my personal favorite, the monthly subscription options where a kit is sent every month right to your door. I know that my children definitely love all of the science experiments from The Young Scientists Club.
Which science kit would your child love to receive for the holidays this year?
Connect with The Young Scientists Club on Facebook , Pinterest and Twitter!