BOP IT! TETRIS Review
Disclosure: I was not financially compensated for this post. I received a sample of the product for review purposes. The opinions are my own, based on my personal experience with the product.
Years ago as an avid game player, I enjoyed playing the classic TETRIS® game for hours at a time so imagine my excitement when I learned that there is a new way to play my favorite puzzle game with BOP IT! TETRIS® from Hasbro!
How does it work? Combining all of the fun of BOP IT! and TETRIS® into one exciting interactive game called BOP IT! TETRIS® (SRP $24.99), players have all new game challenges featuring hundreds of puzzles for ongoing fun. Recommended for ages 8+, this game can be played solo or socially. This game would be lots of fun at holiday parties for group play too.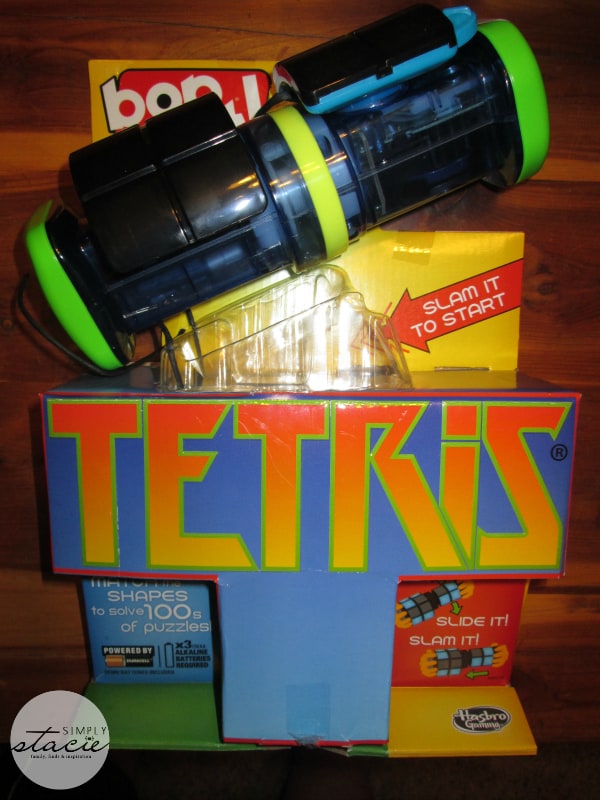 BOP IT! TETRIS® is so addictive in a good way and it is a fun game for parents to play with their kids. I played this with my three children and even my husband who doesn't normally care for games had fun getting in on the action. There were lots of giggles and shouts of encouragement as we tried to slam and slide the shapes into place and match the blocks on one screen into the open space on the other screen by moving and rotating the shapes as we moved through progressively difficult levels before time runs out. I admit that I bragged to my family about my TETRIS® prowess assuming that this would be ever so easy for me however while it may start out easy it gets increasingly more difficult as I worked through the four levels which includes bonus and challenge rounds. My children enjoyed proving that they were actually better than me as they were able to pass my levels and points (so much for bragging).
BOP IT! TETRIS® is such a fun and unique game that would make an excellent gift idea for the holidays. It is available online and at major retailers. You are invited to visit Hasbro to learn more about this game and browse all of the fun family games available this holiday season.
Connect with Hasbro Game Night on Facebook and Twitter.