The Artists' Journey: Reaching Dreams at Pixar #MUScareGames
*Disney/Pixar provided me with airfare and hotel accommodations to attend a press day at Pixar Animation Studios. Pictures are used with the permission of Pixar. All thoughts and opinions are my own.*
Much like Mike Wazowski in Monsters University (now available on Blu-ray as of October 29th, 2013), many of us start with a childhood dream and never really imagine ourselves doing anything different. But reality sets in, and sometimes we have to reinvent ourselves and find a new dream. These are the stories of three Pixar artists who relate very much to Mike Wazowski. The things they dreamed of doing as young children either never came true or weren't what they actually wanted. They each turned to art, and their newfound loves led them to a career at Pixar.
John Nevarez
John has been with Pixar since 2009. As a young man, John thought he would grow up to teach math. However, he flunked out of school after realizing he truly hated it. He was devastated over his failure and returned to his home in East L.A. He enrolled in junior college and signed up for an art class as a way to heal his wounds. He fell in love with art, pursued a degree in it, and graduated with his degree. Although rejection letters came in, he didn't let them discourage him. He truly has a passion for art and was hungry for it, so he kept trying until he finally found his place with Pixar.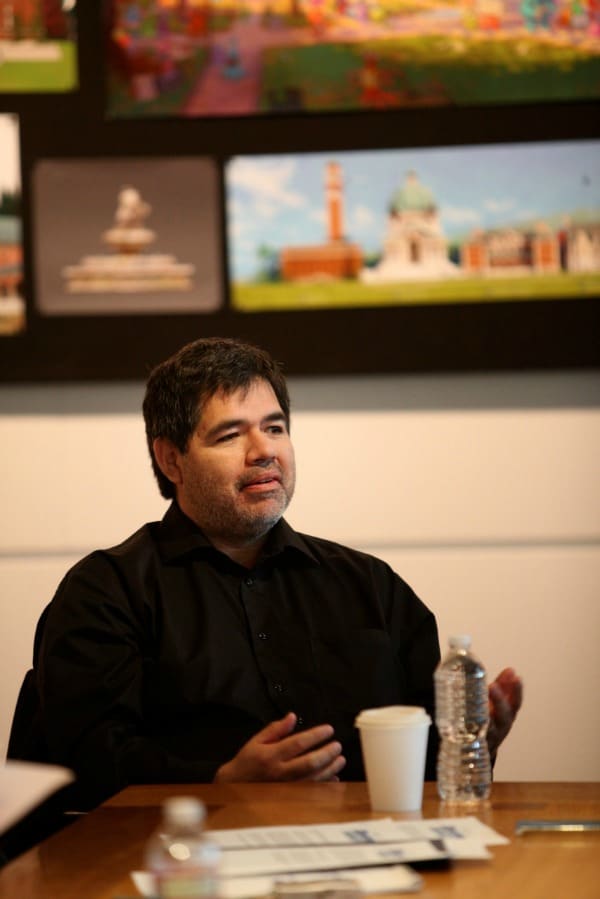 Dice Tsutsumi
Dice has been with Pixar since 2007. Originally from Japan, Dice thought that he would grow up to play baseball professionally. Rather than focusing on his studies, Dice played baseball all of the time. He wasn't very good at it, so a career in it was not in his future. In Japan one cannot move on to the university with poor grades, so Dice had no other choice but to leave Japan. He came to the United States and enrolled in an art class at a community college because it was the one class he could take without speaking any English. Other people in the class, mostly older people, were very complimentary of his work. In Japan, the culture is very different and compliments are not so easily given. Nevertheless, he became hooked on art and pursued a degree. Dice worked for smaller animation studios before coming to Pixar after he was personally contacted about his art.
Jae Hyung Kim
Jae Hyung began at Pixar as an intern in 2006, working on the film Ratatouille. Originally from South Korea, Jae Hyung went to medical school and had worked as a medical doctor. As a child, he didn't have any one specific dream. Early on in his career as a doctor, he realized he did not have a passion for it. He left South Korea for the United States specifically to study animation. After being away from Pixar for two years, he was asked to return and has been there ever since.
Their Advice for Children Interested in Becoming Artists
There are some people out there who may realize their dreams of becoming an artist early on in life. Who better to give them advice than artists who are currently living out their dreams?
John's advice to young children who love art is to draw, but to also watch a lot of movies and pay attention to how the stories are told. An artist needs to be able to show the emotion of the characters. John also said never to give up or get too comfortable, because there are always thousands of other hungry artists out there waiting to get in. He also advises young artists to learn from their mistakes, stay hungry, and never give up.
Dice commented on the tremendous amount of pressure on children in today's society, and the negativity that there is around failure. But Dice says to embrace that failure because it is the best recipe for growth. Without failure, you get cocky. Do not allow yourself to get discouraged; failing will help you improve.
For more about these three artists' paths to Pixar, check out "Path to Pixar" on the bonus feature disc included with your Monsters University Blu-ray.