The Wizard of Oz 75th Anniversary Collector's Edition Review
Disclosure: I was not financially compensated for this post. I received a sample of the product for review purposes. The opinions are my own, based on my personal experience with the product.
The Wizard of Oz 75th Anniversary Collector's Edition on Blu-ray, Blu-ray 3D, DVD and UltraViolet is now in stores (as of October 1, 2013)!
Synopsis:
In this charming film based on the popular L.Frank Baum novel, Dorothy and her dog Toto are caught in a tornado's path and somehow end up in the land of Oz. Here she encounters some memorable friends and foes in her journey to meet the Wizard of Oz who everyone says can help her return home and possibly grant her new friends their goals of a brain, heart and courage.
Bonus Features:
All-New Feature Length Documentary: The Making of the Wonderful Wizard of Oz
Commentary by Historian John Fricke with the Film's Cast and Crew
Sing-Along Feature
My Review:
I remember watching The Wizard of Oz over and over again when I was a little girl. That was back when it was only available on VHS and long before the time of DVDs and Blu-rays. It was one of the movies we watched for my 9th birthday party sleepover.  It's always been a favourite of mine and both my girls have watched it over and over. It's a classic story that will never get old and delight fans of all ages!
I recently received The Wizard of Oz 75th Anniversary Collector's Edition on Blu-ray 3D + Blu-ray + UltraViolet and we sat down together to watch it again. Though I've played the VHS for the kids, I hadn't sat down to watch the movie in its entirety since I was a little girl. It brought me right back to my childhood and there was so much I noticed this time around that I never realized as a kid!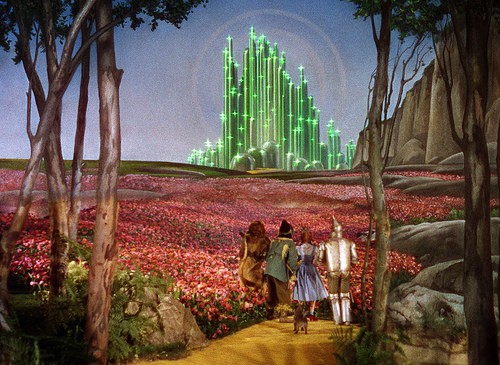 Photo Courtesy of Warner Bros Entertainment
For starters, I didn't realize the actors who played friends of Dorothy and her aunt & uncle were actually the same actors who played the Scarecrow, Tin Man and the Lion! In fact, all the characters (except Aunt Em & Uncle Henry) were other people in the land of Oz. I guess they did a good job of convincing little girl me that they were completely different people!
Dorothy's voice is like magic to me. When she sang "Somewhere Over the Rainbow" it brought back so many memories for me. I remember listening to and singing that song along with my record player as a child. It was one of my favourite songs as a very young child. Listening to it now brought tears to my eyes. It's a beautiful song.
We don't own a 3D Blu-ray player yet, but I was trying to picture what a different experience it would be to watch it with the 3D glasses on. I bet it's something else! There's a few scenes that I remarked to John that would have been neat to see 3D. For example, the scene where Glinda appears (and disappears) via a pink bubble!
Even if you've seen the movie before, the experience of watching it on Blu-ray is so different. Everything is sharper and clearer than ever before. I think they did a great job with a 75 year old film! I was especially enamoured with Dorothy's ruby red slippers. They sparkled and shined and were mesmerizing  to look at.
Photo Courtesy of Warner Bros Entertainment
If you've got extra time, watch the 2+ hours of bonus features including a documentary on the making of the movie and how it overcame the odds to become a classic and a part of American culture. I'd say it's also part of Canadian culture too since most people I know watched the movie as children and loved it just as much as I did.
Purchase The Wizard of Oz 75th Anniversary Collector's Edition from The WB Shop or on Amazon.
Connect with The Wizard of Oz on Facebook and watch clips from the movie on YouTube!