TruMoo Limited Edition Halloween Milks Review
Disclosure: I was not financially compensated for this post. I received a sample of the product for review purposes. The opinions are my own, based on my personal experience with the product.
My three children get so excited during the not-so-spooky Halloween season! Therefore, they were very excited to try the new TruMoo Limited Edition Halloween Milks to kick off the month of October. We have a fun family tradition on Halloween night where I decorate the dining room and cook a Halloween themed dinner to get everyone in the spirit for a night of trick-or-treating. TruMoo has two delicious limited edition Halloween themed milks that will be on our table during the season including TruMoo Chocolate Milk and TruMoo Limited Edition Vanilla Milk (in a fun Halloween orange color).
As a health conscious mom, I appreciate that TruMoo ready-to-serve chocolate and vanilla milk has 35% less sugar than the other leading chocolate milk brands, no high fructose corn syrup and no artificial growth hormones.I appreciate that a one cup serving has only 140 calories. Our entire family loves the Limited Edition TruMoo Chocolate 1% Lowfat Milk with Vitamin A & D. My husband commented that it had a rich and creamy chocolate taste and my children announced that it was absolutely delicious! We can't wait to try the Vanilla Milk next!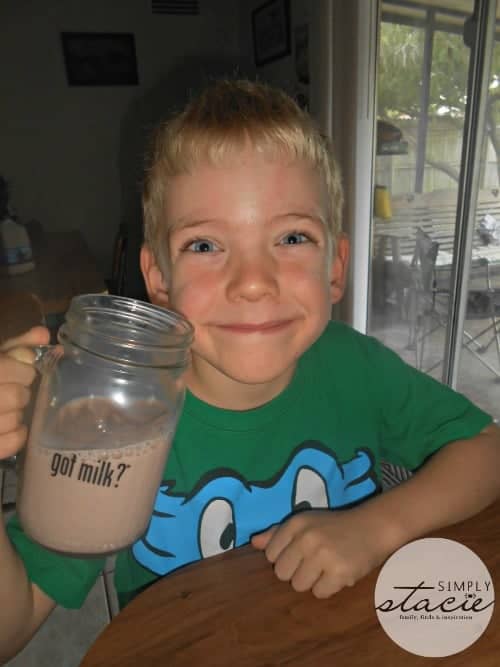 For our Halloween themed party, I will be serving our guests delicious recipes that I found from TruMoo including the Spooky Smoothie. We just couldn't wait so we already tested out the Monster Mash Mudslide recipe and it was delicious!
TruMoo Monster Mash Mudslide Recipe
4 cups TruMoo Lowfat Chocolate Milk
10 chocolate wafer cookies, coarsely broken
½ cup frozen non-dairy whipped topping, thawed
8 mini chocolate chips or mini-chocolate candies (orange/brown flavor recommended)
Directions:
In blender, combine TruMoo Lowfat Chocolate Milk and chocolate wafer cookie until smooth. Heat mixture in saucepan or microwave until just heated through.
To serve, pour chocolate milk mixture into 4 glasses. For each serving, spoon a large, upright dollop of whipped topping to resemble a ghost. Insert chocolate chips or chocolate candies into the dollop for eyes.
Serves 4.
TruMoo Limited Edition Halloween Milks are available at major retailers and grocers nearest to you. You are invited to visit TruMoo to find a store location nearest to you. Which Halloween themed recipe from TruMoo do you plan to serve at your holiday bash? You can even enter to win Goosebumps Haunted Hollywood Vacation!