Book Review | Prayers and Promises for Worried Parents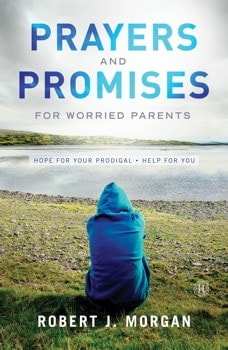 *I received a copy of this book for review, but was not compensated financially in any way. The opinions expressed are my own and are based solely on my experiences while reading this book.*
Title: Prayers and Promises for Worried Parents: Hope for Your Prodigal. Help for You
Author: Robert J. Morgan
About the Book:
The author has been a pastor for thirty three years and has written a biblically based book to offer parents hope for your child(ren) and help for worried parents. It includes over one hundred brief readings including "Scripture, effective prayers, true-life stories, promises from God's Word, timely quotes, and helpful hints for coping in difficult times."
My Review:
My eight year old son recently underwent surgery and I will admit that I was terrified. I wanted to stay strong for him so I relied on my faith that he would be fine. As he was wheeled away to the operating room, I waited until he couldn't see me and I wept. I love all three of my children and acknowledge that I have a difficult time not worrying about this all the time. Prayers and Promises for Worried Parents was written to offer, "Hope for your prodigal. Help for you" and it was packed with timely information to help me as I waited to learn that his surgery went perfectly. I appreciate that the readings and prayers are brief so it is perfect for busy parents as I can devote as little or as much time as I am able to reading it. I have always found it difficult personally to pray……I normally just talk about how I am feeling in a conversational way so it was very helpful to find Scripture based prayers in this book such as "Leaving Him in God's Hands" and "A Potpourri of Help". This book sits on my nightstand so that I can reference it every night before going to sleep. It has really helped me to silence the anxiousness and fears that creep into my mind especially in the evenings when I have time to think about the day.
Prayers and Promises for Worried Parents by Robert J. Morgan would be a great gift idea for new parents and is available for purchase as a trade paperback for the SRP of $14.99 U.S. and $16.99 Canada.