Pirate Talk Language Game Review
Disclosure: I was not financially compensated for this post. I received a sample of the product for review purposes. The opinions are my own, based on my personal experience with the product.
I continue to be impressed by the creative, high quality educational games available at Super Duper Publications®! As a homeschooling family, we frequently use learning resources from Super Duper Publications within the curriculum. In fact, it is so popular in our home that my children even request to play the games in their free time too!
My children are ages 6, 7 and 8 and their favorite game to play from Super Duper® Publications is Pirate Talk® Receptive & Expressive Language Game. This exceptional, award-winning board game takes children on an exciting pirated themed island adventure that is educational and yet extremely fun too. It features 150 color-coded receptive and expressive language cards in five subject areas, six pirate player pieces, 100 gold coins, an electric spinner and an easy to follow instruction sheet.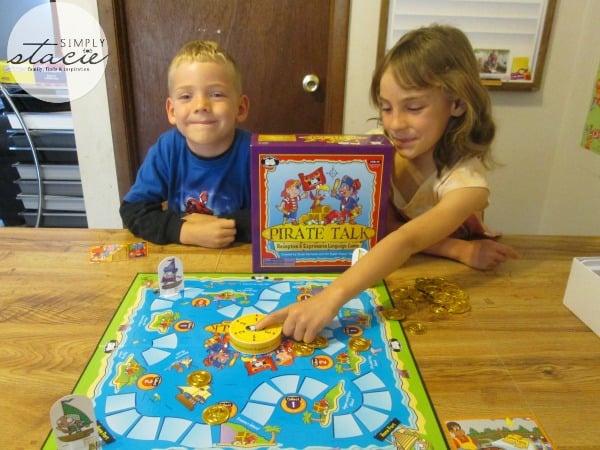 How do you play Pirate Talk®? The child will observe a colorful drawing on the game card and then think about the picture and answer from 3 questions or tasks listed on the back of the card. It focuses on the following categories including "People", "Home", "Community", "School" and "Activities". I read the corresponding sentence and then my child repeats the sentence aloud and answers a question about the sentence or points to an item from the picture. They are ultimately building on valuable language and expressive skills such as the ability to categorize, describe a situation, use inference and/or relate to the social situation described in the picture/sentence. Making learning fun, they move around the vibrantly colored, engaging game board, spin the electronic spinner and collect gold doubloons.
For example: "Mrs. Cole is helping Jenny find books on insects."
Receptive
1. Repeat (child repeats the exact sentence)
2. Question:
a. Who is helping Jenny?
b. What is Ms. Cole helping Jenny find?
3. Following Directions:
a. Point to the librarian.
b. Point to Jenny, then point to a book.
Expressive
4. Categorization:
a. Name three types of books you might find in a library.
b. Name two other things you might find in a library.
5. Inferencing: Why does Jenny need books on insects?
6. Description: Tell me about your favorite book.
7. Social: How should Jenny ask for help finding a book?
There are a total of 1,500 questions/activities so this game can be played for a long time without repeating any of the questions. I love that I can adapt the game based on my children's skills and abilities focusing on their strengths while building positives from their weaker areas. Because I can choose the questions or tasks based on skill level or vary the game, it is easily adaptable for play with different age groups. My youngest son recently turned six years old and is showing a definite improvement in his ability to follow directions and narrate a sentence back to me. We follow a Charlotte Mason curriculum so the inclusion of narration within this game to build communication skills is a huge bonus in my opinion.
I highly recommend Pirate Talk® for all children of elementary ages (or 4-10 years old) and it can be used at home, in schools or homeschool co-ops and in therapy sessions. You are invited to visit Super Duper Publications® to purchase Pirate Talk® for the SRP of $54.95. This website frequently runs money savings specials (check out the deals up to 75% off) to save you even more on their educational products so I highly recommend signing up for Super Duper Publications emails for discounts and new products alerts. I love that shipping is always free in the US and Canada with a $20 minimum order!
Connect with Super Duper® Publications on Facebook and Twitter too!