OPI Mariah Carey Holiday Limited Edition Nail Lacquers Review
Disclosure: I was not financially compensated for this post. I received a sample of the product for review purposes. The opinions are my own, based on my personal experience with the product.
When I think about Christmas music, the first artist that comes to mind is Mariah Carey. I adore her song, All I Want for Christmas is You. It puts me in a festive mood and makes me want to get some holiday baking done! Christmas is by far my favourite holiday of the year. I love everything about it from the twinkling lights on our Christmas tree to sweet holiday desserts and treats. Most of all, I enjoy getting together with family. Christmas is the only time during the year when I see most of my family because they live so far away. 
See how I digress when I start thinking about Christmas? What I wanted to tell you about today is Mariah Carey Holiday Limited Edition nail lacquers from OPI! There's 18 new shades that were inspired by the fabulous, Mariah Carey! They are simply gorgeous colours. Think deep reds, maroons, burgundys, rich chocolate as well dazzling glittery golds, silvers, pearls and even bronze. The set also includes six new Liquid Sand Lacquers in icy blues, frosted pinks, sparkling graphite and more. Liquid Sand is OPI's textured matte finish polish that has a bit of sparkle.
I love how diverse the shades are and how they could suit really any occasion or look. The reds would look beautiful with a pretty holiday dress for a family get-together. My favourites are the silvers though because they remind me of the beauty of a first snowfall. 
I've listed all the shades below in order as they appear in the two photos below.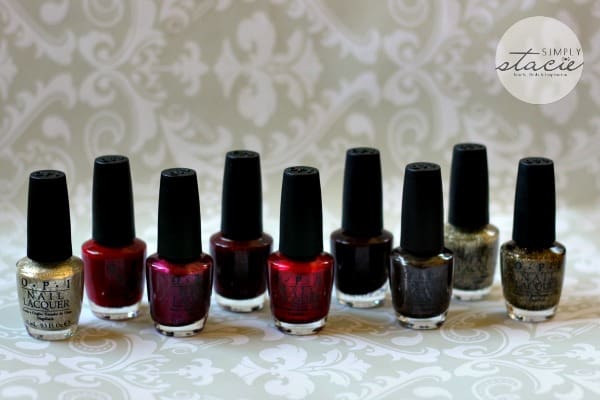 My Favorite Ornament: Make this champagne glitter your new personal favorite.
All I Want for Christmas (is OPI): This marvelous maroon is present-ly my top choice.
Cute Little Vixen: This deep red violet has foxy written all over it.
Underneath the Mistletoe: Is my kiss as spicy-sweet as this candy-apple red?
In My Santa Suit: This generously pigmented red is worth staying on the "nice" list
Visions of Love: I see this rich burgundy in my immediate future.
Warm Me Up: This spiced coffee hits all the cold spots.
Wonderous Star: This gold-flecked shimmer has heavenly shine.
All Sparkly and Gold: What more can we say…the name says it all.
Sleigh Ride for Two: There's only room left for this dark hot chocolate.
Ski Slope Sweetie: This golden pearl is everybunny's favorite.
I Snow You Love Me: Just like I snow you love this disco light confetti.
Silent Stars Go By: This blush of textured pink has parades of sparkle.
Baby Please Come Home: Can't wait to see you…in this textured and sparkling lilac.
Make Him Mine: But make this textured glistening rose mine first!
It's Frosty Outside: This frosted silver is so icy its hot.
Emotions: This dramatic sparkling coal has got me feeling fine.
Kiss Me at Midnight: It's time to fall in love with this frosted ice blue.
On my left hand, I used My Favorite Ornament. It's sparkly and glamourous and has a textured finish, but its not one of the Liquid Sand polishes. It's a little fancier than I normally wear, but I think it would look beautiful for a winter wedding or paired with a little black dress for an evening out.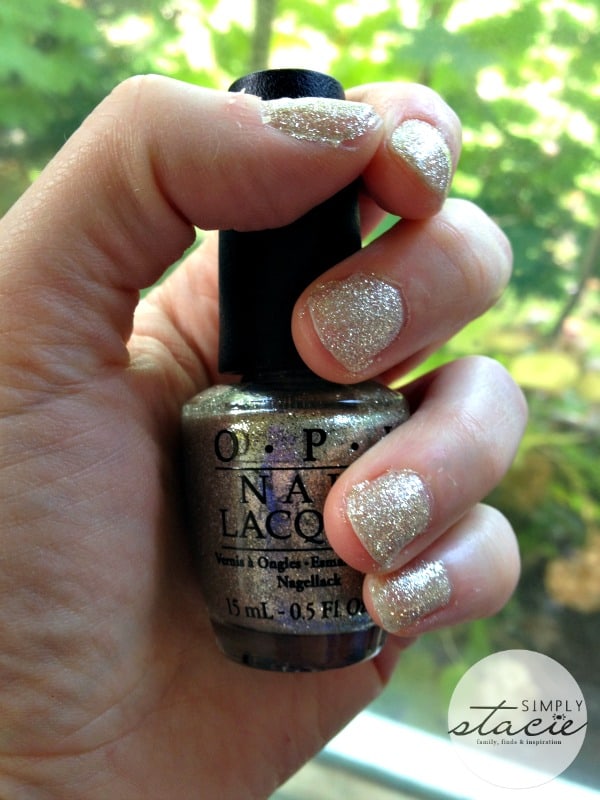 On my right hand, I used the Ski Slope Sweetie. It looks white in the bottle, but it actually goes on with a golden-white shimmer. My nails appear to be gold in the light and look iridescent. In fact, this colour reminds me of a dress my favourite Barbie used to wear. Anyone remember Crystal Barbie from the 80s? She was my favourite and I thought she was the most beautiful thing ever. Her dress was so spectacular to look at and that is exactly what this colour reminded me of! It brought back many fond childhood memories.
All of the Mariah Carey Holiday nail lacquers have the OPI exclusive ProWide Brush for ease of application. I'm doing better at applying polish to my right hand and I know the brush plays a big role in helping me not mess up my nails too much! Practice Practice Practice!
These holiday nail lacquers are available this month at professional salons and spas across Canada and they have a SRP of $10.95 each.
Which colour reminds you most of the holidays?
Connect with OPI on Facebook, Twitter, YouTube and Pinterest.