Ocean Blue Review
Disclosure: I was not financially compensated for this post. I received a sample of the product for review purposes. The opinions are my own, based on my personal experience with the product.
My entire family takes a fish oil supplement every day, including our three children. We began taking Omega-3 supplements several years ago on the recommendation of my daughter's pulmonary specialist as he indicated it can help to calm the inflammation associated with her severe asthma. It is therefore extremely important to me that we are using the highest quality supplement available.
Ocean Blue has an ultra-high potency super concentrated fish oil supplement that meets the daily requirements in one tiny pill! What sets Ocean Blue apart from other brands is that it addresses the need to include sufficient EPA and DHA. It is 88% pure which is significantly more purified than the comparable 30 percent or less of other leading fish oil and krill oil formulas. In fact, Ocean Blue Minicaps® have 350mg of omega-3 per serving!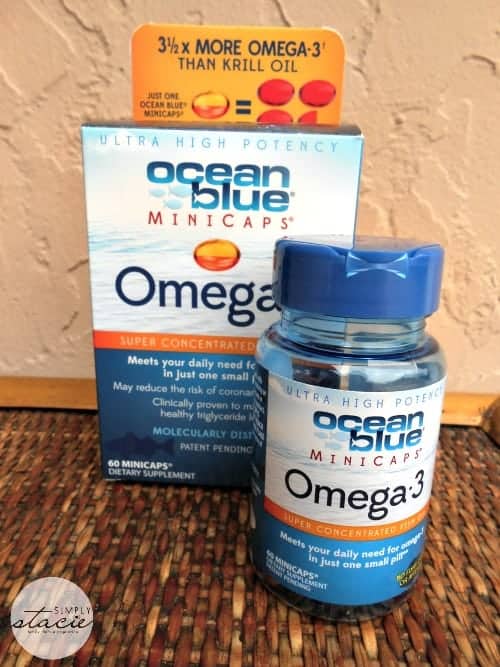 What immediately got my attention while initially researching this product is that it is molecularly distilled and it is purified to remove contaminants, has a concentrated dose in one tiny, easy to swallow pill with no detectable odor as it includes vanilla. The first important thing that I made sure to check is that Blue Ocean Omega-3 Minicaps® are mercury free which is a requirement for me in any supplement that I give to my family. Having no odor or fishy aftertaste is extremely important to me too because it means that there is less chance that the supplement has gone rancid or undergone oxidation.
According to Ocean Blue, scientific studies have shown that Omega-3 (EPA and DHA) may help to:
Reduce the risk of coronary disease
Support brain and cognitive function
Promote a healthy immune response
Support healthy skin and hair, eye health and joint mobility
Maintain healthy triglycerides levels
I am pleased with our experience so far using Ocean Blue over the past 30 days.
You are invited to visit Ocean Blue to read the latest research on what you need to know about Omega-3 supplementation. There are three primary products available from Ocean Blue including the Ocean Blue Minicaps®, Omega-3+D3 and Omega Power. You can purchase the product that is best suited for your needs and shipping is free! It is also available at retailers including Walgreens, CVS and select Rite Aid locations.