Disclosure: I was compensated for this post. All opinions expressed are 100% my own.
I've been in a mood for baking for the past few weeks. I'm not sure if it's because of the cooling fall weather or just my cravings for sweets. I really enjoy spending time in my kitchen trying new recipes and making old family favourites. My flour of preference has always been Robin Hood All-Purpose flour. It's works well in whatever I'm baking. Today I wanted to share with you some new products that Robin Hood has recently introduced. I hope you'll like them as much as I do!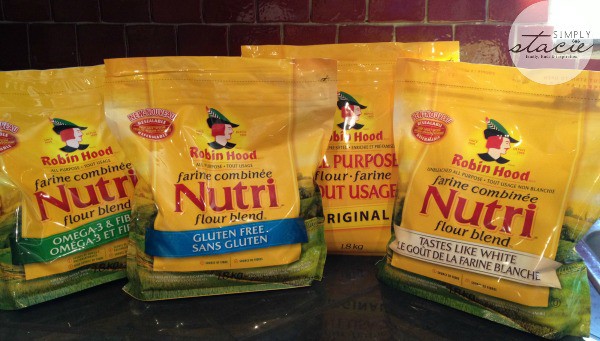 Meet the new Robin Hood Nutri Flour Blend varieties. You'll notice first that the bags are different. All three plus the Robin Hood Original All Purpose flour are now available in a resealable bag. Each bag has a Grip-Lock™ system that uses gripping micro-hooks to keep the bag sealed. It stays closed even if flour gets on the edge. This technology was originally used in the aerospace industry and it's neat to see that Robin Hood has put it in place for their new packaging. I think it's the best thing! I always made such a mess opening flour before and would get it all over the counter, floor and myself! Now there's less mess (and waste) when I'm baking.
The new flour line-up consists of three new blends:
These three blends were developed with quality ingredients and allow you to add extra goodness to whatever recipe you are baking. They contain simple, healthy ingredients and your family likely won't even know the difference. Mine had no idea!
Robin Hood Nutri Flour Blend Tastes Like White
This blend is a combination of unbleached flour with oat hull fibre. It looks just like regular white flour as you can see! I like that it adds fibre to whatever it is you are making. Fibre is something we all need to eat and many of us don't get enough of it. I try to make sure we eat enough fibre because it's so important for digestive health.
I made this delicious Classic Carrot Cake using the Nutri Flour Blend Tastes Like White. The cake was moist and flavoured with carrots, sugar and cinnamon. The cream cheese icing added a bit of richness! It turned out perfectly. The bonus was that each serving was 2 grams of fibre!
Robin Hood Nutri Flour Blend Omega-3 & Fibre
This flour is made from a blend of whole wheat flour and flax seeds. It provides both a high source of fibre and a source of Omega-3 polyunsaturates. I often add flax seeds to my baking anyways so it was neat to see that Robin Hood added them to one of their new products. They contain the "good fats" (Omega-3 essential fatty acids) that are important for heart health.
I made Blueberry Streusel Muffins with this blend and they turned out amazing. In fact, John said they were his favourite recipe of the past week! Each muffin contains 4 grams of fibre and 1 gram of Omega-3 polyunsaturates. They are yummy to eat for breakfast or to have as a quick, healthy snack when hunger hits through the day.
Robin Hood Nutri Flour Blend Gluten Free
This one is made with a blend of rice flour, sugar beet fibre, potato starch and tapioca starch. It's also a source a fibre and perfect for those who are following a gluten free lifestyle. I tried the gluten free lifestyle a few years back and remember how hard it was to find products that were gluten free in our local area. I love that Robin Hood now has a gluten free option for people who can't eat gluten or choose not to eat it. I've never done any gluten free baking before but decided to try a recipe from Robin Hood Baking Center: The Ultimate Gluten Free Chocolate Chip Cookie.
The ingredients are pretty much what I would expect in a regular chocolate chip cookie except for two things: the gluten free flour and the xanthan gum. I found xanthan gum in the gluten free aisle at our grocery store. They also sell it at the natural food store in the next town over from us.
They smelled so good while they were baking in the oven. Sweet and chocolatey! They were absolutely scrumptious. No one knew they were actually gluten free. Plus they had two grams of fibre. Now that I've got xanthan gum on hand I'll be making this recipe again.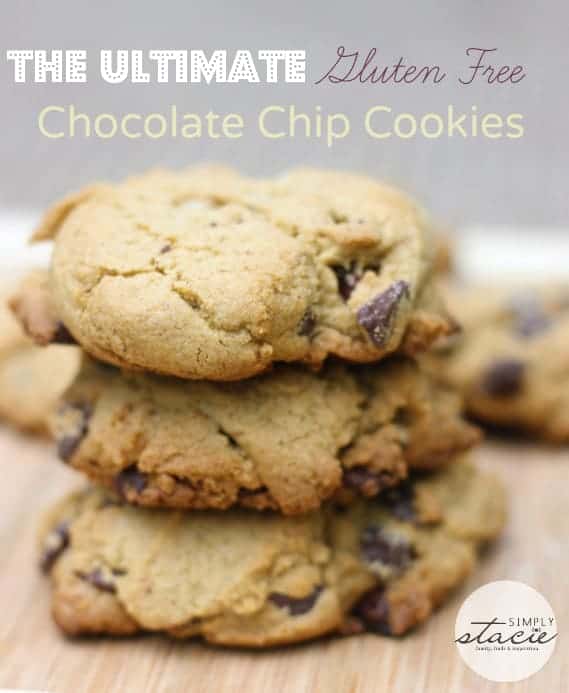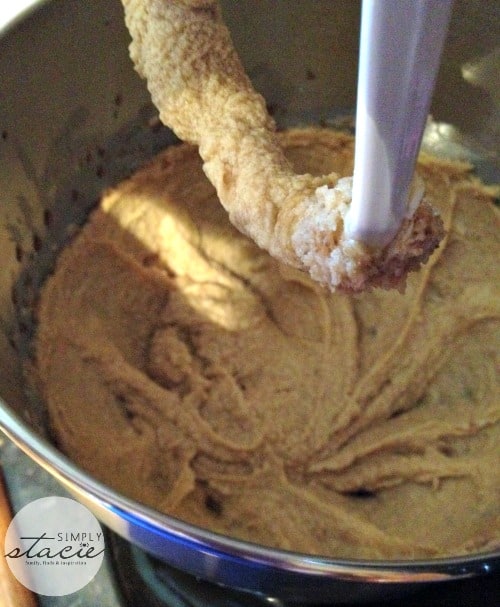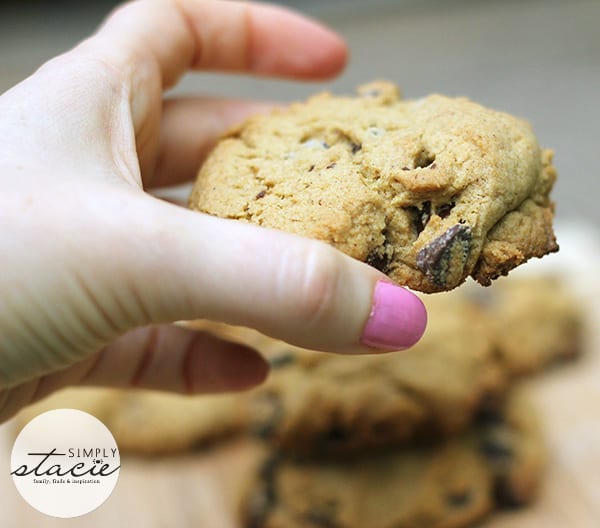 Next time you're out shopping pick up a bag or two of the new flour blends and swap out your regular flour for one of the new Robin Hood Nutri Flour Blend varieties. For more recipes, baking tips and information about these new flour blends, visit Robin Hood Baking Centre.
Connect with Robin Hood on Pinterest and YouTube.
The Ultimate Gluten Free Chocolate Chip Cookies
Sweet and chocolatey! You won't even know they are gluten free.
Ingredients
1 cup butter, softened
3/4 cup brown sugar, packed
1/2 cup sugar
2 eggs
2 tsp vanilla extract
2 1/4 cups Robin Hood® Nutri Flour Blend™ Gluten Free
1 tsp xanthan gum
1 tsp baking powder
1 tsp baking soda
1/2 tsp salt
1/4 tsp cinnamon
2 cups semi-sweet chocolate chips
Instructions
Preheat oven to 350°F. Grease a baking sheet or line with parchment paper.
Beat butter and sugars in a large bowl with an electric mixer until well combined.
Add eggs one at a time, beating well after each addition. Add vanilla.
Combine flour, xanthan gum, baking powder, baking soda, salt and cinnamon in a separate large bowl. Stir dry ingredients well. Add to butter mixture. With mixer on low speed, beat until dry mixture is well blended. Add chocolate chips.
Place dough by 1 1/2 tsp 2″ apart on a prepared baking sheet. Press dough down slightly. Bake in preheated oven 12 to 14 minutes. Cool on wire cooling rack.
Recommended Products
As an Amazon Associate and member of other affiliate programs, I earn from qualifying purchases.
Nutrition Information:
Yield:

24
Serving Size:

1
Amount Per Serving:
Calories:

202
Total Fat:

12g
Saturated Fat:

8g
Trans Fat:

0g
Unsaturated Fat:

4g
Cholesterol:

36mg
Sodium:

191mg
Carbohydrates:

23g
Fiber:

1g
Sugar:

18g
Protein:

2g