Curamin Review
Disclosure: I was not financially compensated for this post. I received a sample of the product for review purposes. The opinions are my own, based on my personal experience with the product.
My husband, Mark has extreme, chronic shoulder pain due to a birth deformity called shoulder dystocia. Since it wasn't repaired when he was a baby, the joint fused together in a malformed manner and he has limited shoulder mobility and severe joint deterioration. He met with an orthopedic specialist this year who has informed him that he will need a complete shoulder replacement. However, the surgeon wants to wait at least ten more years (when he is in his 50's) because it is a complicated surgery that would need to be re-done later in life. We have tried many supplements over the years but Mark has always been resistant to using any type of pain management preferring to suffer in silence.
We were introduced to Curamin® several months ago. Curamin® is a natural pain relief supplement and after reading more about it, Mark decided to try using it to see if it works. This effective pain relieving supplement features curcumin which is the active ingredient of the turmeric rhizome plant and has been studied for its "proven antioxidant, anti-inflammatory and anti-cancer properties." Curamin® is a blend of curcumin BCM-95®, bowsellia for inflammation, nattokinase which is an enzyme that may help micro-circulation and DLPA, the amino acid phenylalanine.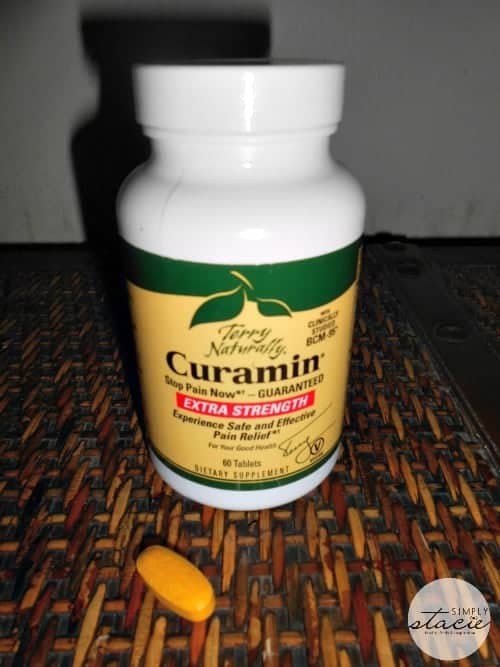 Mark has been taking Curamin® daily for the past two months i.e. at least one pill and up to three pills a day as needed for pain management. I have never seen my husband so enthusiastic about a pain relieving supplement because he said he noticed a definite negative difference when he is not taking it. In fact, we went away for a long weekend recently and he forgot to take it along. By the second day, he said that he was in terrible pain and vowed never to forget taking Curamin® again.
I have taken Curamin® myself several times when I get a headache and an inflammatory response during PMS. I rarely take a pain relieving supplement but this is my first choice when I need relief. I can tell you that in the three times I have needed to relieve my headaches and other symptoms, it worked noticeably for me too.
You can purchase a 60 count bottle of Curamin for the SRP of $38.95 and it is well worth the price to bring my husband some much needed pain relief. I highly recommend learning more about how Curcumin may be the "21st century cure" by reading the informative booklet written by Jan McBarron, M.D., N.D. You are encouraged to visit Curamin to learn more about Curamin® and locate a retailer near you (or purchase online too).