Book Review | The Complete Photographer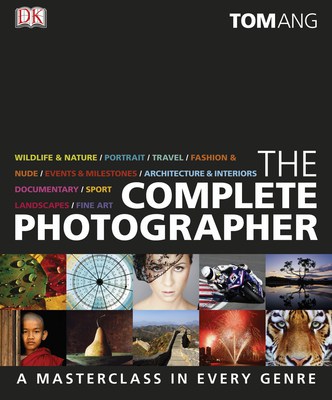 *I received a copy of this book for review, but was not compensated financially in any way. The opinions expressed are my own and are based solely on my experiences while reading this book.*
Title: The Complete Photographer
Author: Tom Ang
About the Book:
Taking the successful thematic approach of How to Photograph Absolutely Everything and combining it with the practical tools and genre tutorials of Digital Photography Masterclass, The Complete Photographer encourages photographers to explore every discipline and experiment with different approaches, to hone their skills, and find their own personal style.
Unlike other books, which tend to cover the principles of photography in a general way, The Complete Photographer is based around tutorials on ten different genres — Portraits, Landscape and Nature, Fashion, Wildlife, Sport, Documentary, Events, Travel, Architecture, and Fine Art-and shows in step-by-step detail how an idea progresses from concept stage to final image.
My Review: 
I've been working on improving my photography skills for over a year now and have come a long way in a short time. I still have A LOT more to learn, but I'm drinking up as much knowledge as I can. I'm reading blogs and books and have even taken a couple online courses. I strive to learn something new every day….or as often as time allows!
The book I've been working my way through lately is called The Complete Photographer by Tom Ang. It's set up a little differently than the other photography books I've read. This book assumes you already know the basics of photography and is more on applying techniques to the various styles of photography. 
I like how it's set up with a different style for each chapter. I was most interested in reading the chapters on Portrait Photography, Landscape Photography, Wildlife & Nature Photography and Event & Milestone Photography. Other chapters include Fashion and Nude Photography, Sports Photography, Documentary Photography, Travel Photography, Architecture Photography and Fine Art Photography. As you can see there's a wide range of styles and subjects!
Each chapter has tutorials, image analysis, assignments, interviews with photographers, behind the scenes of a photo shoot and portfolios. It broadened my understanding of each style and I was especially interested in the behind the scenes sections because I've never been on a professional photo shoot. It was intriguing to see how much work is really involved in the process! 
The tutorials were detailed and informative. The author teaches in a way that I could easily follow along and understand and has an infectious enthusiasm for his craft. It motivated me to want to get out and start shooting more. Practice is the way to go!
Expect lots of pictures to mesmerize you! Of course, this is a photography book so you would definitely expect there would be photographs and there is! So many beautiful shots that are so breathtaking it made me want to cry. I wish I had the talent to capture those kinds of pictures.
The only thing missing from the book is Food Photography! I'm very interested in learning more about taking better photos of recipes I make, but I'd imagine that would be an entire book in itself!
Overall, I'm very pleased with the layout and presentation of information in The Complete Photographer. I soaked up more knowledge and felt I learned a few things! It's all part of the journey….
Craft Boutique
For a limited time you can save up to 30% off on select Craft books from DK Canada!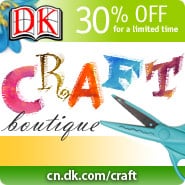 Connect with DK Canada on Facebook & Twitter.  Also find it on Amazon.ca.