9thandElm.com Review
This is a Fashionista Event. I was given a promotional item to review by 9th and Elm to share my opinions about the website. All opinions are my own.
I consider myself a savvy online shopper. In fact, I prefer to shop online because I live in a small, rural area. With the Internet, I can access the same types of products that people in the larger cities can and even other countries. If a country ships to Canada and it's reasonably priced, I'll add it to my bookmarks.
9thandElm.com is a site that I've now bookmarked and subscribed to so I never miss a deal. It was founded by Clay and Elly Bethune in the Spring 2013 with the goal to showcase fabulous fashion from the best handmade and independent designers. Here you'll find the best of the best of handmade fashion. These are exclusive deals that were handpicked by the 9thandElm.com buyers and delivered daily to their subscribers (like me!).
I spent a good hour the first time I browsed 9thandElm.com. There's so much to see! I wanted to look through all the designer's collections and pick out my favourites. The sales are all on for a limited time and you can see when it ends. If you find something you like, don't wait too long or you may miss out!
They have jewelry, clothing, tech accessories, hair accessories, purses, clutches and more by handmade, independent designers. The buyers pick the best of the best and have impeccable taste! I seriously had a hard time narrowing down what I wanted to buy.
The first item I selected was a Black & White Chevron Ring. I thought it was neat looking with the chevron pattern and once I found out it was made out of wood I was sold. I don't own anything like it and thought it would be a unique piece to add to my jewelry collection.
The designer used a fallen branch to make the ring. It's hand cut, sanded and then sealed with a coat of resin on the front and back.
It has a brass base that's adjustable and will fit to any size of finger. Each ring is one-of-a-kind since no pieces of wood are exactly the same.
I showed John the ring when it came and he thought it was cool how they made it. He's a carpenter and works with wood all the time.
It's funky, stylish and matches just about all my outfits. I picked the black one for a reason. It matches everything!
I purchased it on 9thandElm.com for $24. It's regularly priced at $28,
My second purchase was a Sterling Silver Small Pendant made by NY based designer, Dana Blair designs. It's a small intricately wired wrapped circle pendant on a dainty silver chain.
I selected it because I loved the simple sophistication of the design and how feminine it was. It looks very pretty on. It's something that I can wear with any style of outfit from clothes to bum around the house or paired with a little black dress.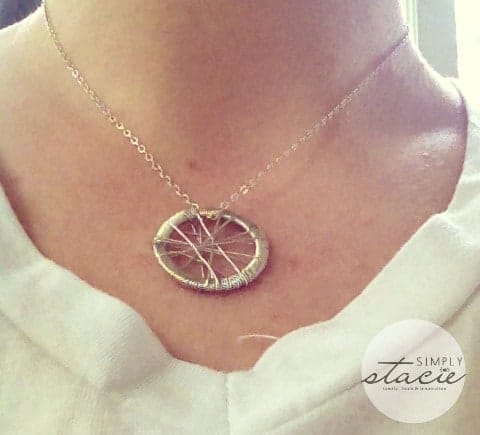 This particular necklace was only $44 on 9th and elm (regularly price is $55)! I probably would have never known about this jewelry designer if it weren't for 9thandElm.com.
One thing I will say is that I was extremely impressed with how quickly both pieces shipped to me. I received both items within a week of placing my order on 9thandElm.com. And this was all shipped to me in Canada which as my fellow Canadians know that shipping can seem to take forever from the USA.
9thandElm.com accepts Visa, Mastercard, American Express, Discover and PayPal as well as 9thandElm.com gift cards and site credit. You can also earn $25 credit each time a friend is referred to sign up on 9thandElm.com (it's FREE).