Wordsearch Junior Review
Disclosure: I was not financially compensated for this post. I received a sample of the product for review purposes. The opinions are my own, based on my personal experience with the product.
Are you seeking an educational game that your children will beg you to play over and over again? If so, then I highly recommend Wordsearch™ Junior by Goliath Games. This learning game is the sequel to the popular Wordsearch! game and it is exceptional in terms of educational and entertainment value.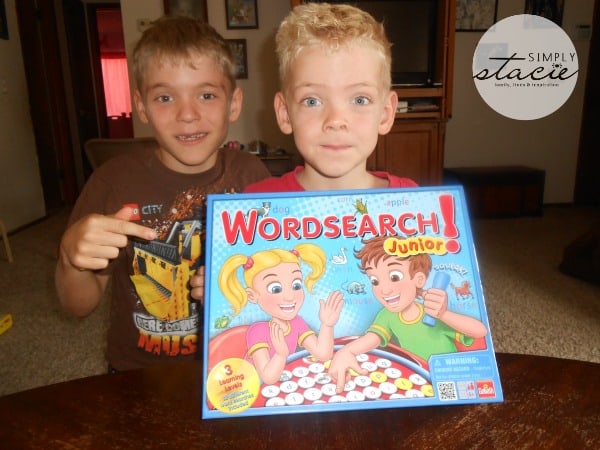 I love that this game can be played by younger and older children so that my 8, 6 and 5 year old kids can play together and still be challenged. This game features three learning levels and promotes reading, spelling, matching, concentration and sportsmanship.
How do kids play Wordsearch™ Junior? There are different ways to play based on skill level but the object is to use the game board to find matching patterns in the form of pictures or words. There are six matching pattern puzzles, 6 words-with-picture puzzles and 6 word-only puzzles. There is a fun foam squeaker that is grabbed and squeaked when the child has found the pattern. If he/she is correct they will place their colored chips on the game board.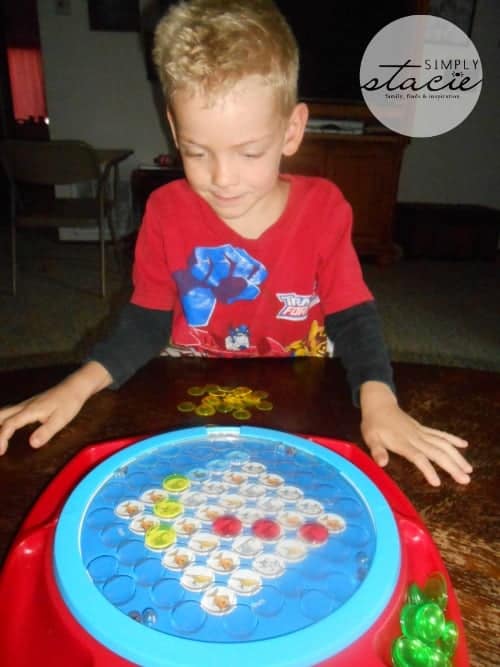 My children love to play games and this is one in particular that they ask to play frequently. Since I homeschool them we use this as part of our classroom curriculum as a learning resource for spelling, reading etc. They enjoy playing Wordsearch™ Junior so much that they even play as an enrichment activity as well as for fun. This is one game that is sure to not gather dust on our game shelf and it is also much requested during our Family Game Nights. Since it has so many ways to play and a variety of game puzzles it is a game that can be played over the years and modified to fit their increasing skill levels.
Goliath Games has a wide selection of fun games for the entire family and can be purchased online at Amazon.com and at retailers such as Walmart, Toys R US, Kmart and Drugstore.com and retails for $24.99. You are invited to visit Goliath Games to learn more about Wordsearch™ Junior or to browse the entire selection of fun family games.