Tupperware FridgeSmart Containers Review
Disclosure: I was not financially compensated for this post. I received a sample of the product for review purposes. The opinions are my own, based on my personal experience with the product.
My husband and I invested in a vertical garden system this year. It's been fun growing our own veggies, and we've been enjoying our bounty all summer. While I love to be able to eat what we grow, there have been a few harvests where we have been overwhelmed with produce. We've been doing our best to keep what we harvest fresh and I've been researching different methods to make sure our yummy veggies don't go to waste. With another set of veggies ready to be picked, we received the FridgeSmart Containers from Tupperware just in time!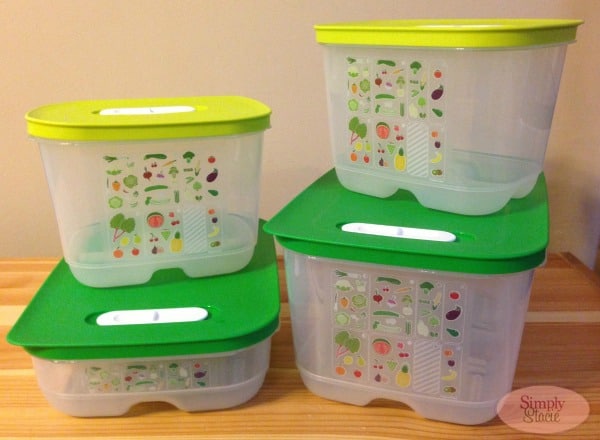 We received a set of FridgeSmart Containers from Tupperware in various sizes for review. The idea behind these containers is to make storing fruits and vegetables easier by creating the optimal environment for them inside the containers, therefore keeping them fresher longer. These containers utilize the Tupperware ACE (Atmosphere Controlled Environment) System, developed by top food scientists. The FridgeSmart Containers all have lids with air circulation systems that include venting holes and an EZ slider which you can set to open, closed, or half open, depending on the contents of your container. The great thing about these containers is that they have permanent produce reference charts right on them that tell you what fruits/veggies to store together and what position to slide the EZ slider to in order to keep them fresh and tasty, so there's no guess work involved. I love the look of these containers and I love how nicely they fit in my fridge. Plus, bonus for me and my limited storage space in my kitchen, when I'm not using them, they nest nicely within each other and save a ton of space. All of those benefits and they're dishwasher safe – doesn't get better than that for me! I'm excited to have these containers for my garden goodies, and would recommend them to anyone who likes to keep a lot of fruits and vegetables on hand.
You can purchase the FridgeSmart Containers on the Tupperware site:
* FridgeSmart Small: $15
* FridgeSmart Small Deep: $18
* FridgeSmart Medium: $24
* FridgeSmart Medium Deep: $29
* FridgeSmart Large: $39
You can also save $5 by buying a four-piece set that includes two Small Deeps, one Medium, and one Medium Deep, for $84. You can also order from your local Tupperware representative.
Tupperware is one of the most trusted names in housewares, and I can remember my grandmother and mother hosting parties! They offer high quality products, with the finest design features to meet your everyday needs. To see all the solutions that Tupperware has to offer, visit their website. You can also find them on Facebook, Twitter, and YouTube.