The Adventures of Bella & Harry Review
*I received a copy of this book for review, but was not compensated financially in any way. The opinions expressed are my own and are based solely on my experiences while reading this book.*
I homeschool my 3rd grader, 1st grader and kindergartener. We include a variety of children's books as educational resources in our daily story time so I was excited to discover The Adventures of Bella & Harry children's picture book series.
The Adventures of Bella & Harry features an adorable pup named, Bella and her little brother, Harry as they travel around the globe on a variety of exciting adventures. This children's book series is a wonderful way to introduce children to geography, social studies and cultures from around the world. Each book sends Bella & Harry on an adventure to a new country or city and features customs, history and landmarks specific to this land. In the back of each book, the kids can practice learning fun words or phrases known to each country.
My children and I enjoyed cuddling up together with two of the new 2013 releases of The Adventures of Bella & Harry including "Let's Visit Edinburgh!" and "Let's Visit Rome!" The engaging text and beautiful illustrations are delightfully interactive. My children enjoyed learning how to read a map alongside Bella and Harry as they Edinburgh Castle and the traditional family crest and coat of arms, plaid fabric or tartan clothing of Scotland. In "Let's Visit Edinburgh" my children learned that Scotland is a part of Great Britain and they were thrilled as they learned about falconry and searched for the "elusive" Loch Ness Monster.
In "Let's Visit Rome"…..we had a wonderful time traveling through history and modern time in Rome, Italy. My children were fascinated by the Roman Colosseum, Palatine Hill, the Roman Forum, the Fontana di Trevi and even the Spanish Steps. They loved learning about Italian cuisine and even helped me make an antipasti and spaghetti and meatballs dinner to celebrate learning about Rome in this book.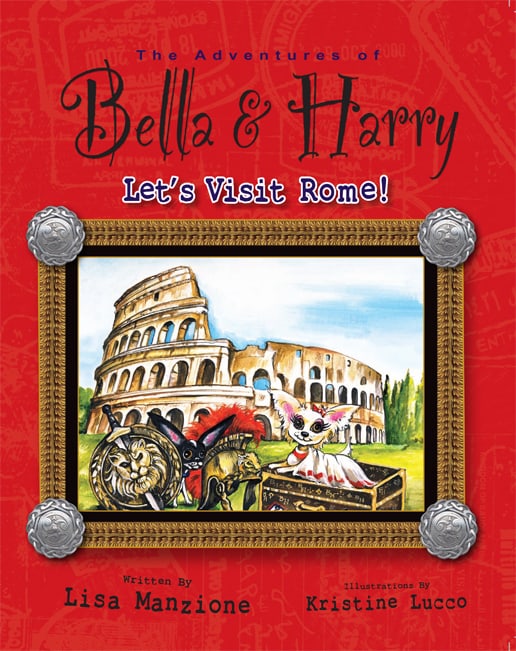 In The Adventures of Bella & Harry children can visit the following countries unique to each book including: Paris, Venice, London, Cairo, Athens, Barcelona, Istanbul and Jerusalem. As a parent and teacher, I find the educational and entertainment value of these books to be excellent and look forward to reading more books in The Adventures of Bella & Harry children's picture book series!
You are invited to visit The Adventures of Bella & Harry website to check out the free interactive online book sample, tools for teachers (love this feature), activities and purchase books in the series for only $16.95 per hardcover picture book.