text-UR® Foam Review
Disclosure: I was not financially compensated for this post. I received a sample of the product for review purposes. The opinions are my own, based on my personal experience with the product.
My three children are always begging me for fun arts and crafts ideas. It can be a challenge to find unique and creative projects so I was delighted to discover text-UR® Foam by Fibre-Craft. Each of these budget-friendly craft kits will inspire your child to create a wide variety of 3D creations such as flowers, bugs, sea life, owl and birds and so much more.
text-UR® Foam craft kits are wonderfully different because it allows kids to create art without having to use paint, crayons, glue or drawing paper. How does it work? Each craft item or activity kit includes 3D text-UR Foam sheets with nice bright colors and interesting shapes, textures and patterns. Children can follow the instructional diagrams or use their imaginations to create their art by peeling and sticking the stackable stickers and foam pieces to create their finished design. Craft time can be as structured or as open ended as you or your child would like it to be while working on their art projects.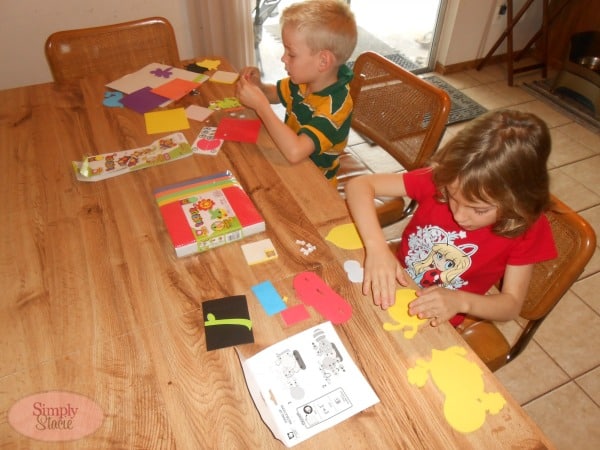 The text-UR® Foam craft kits are interactive and so much fun and my own children had a great time, playing for over an hour the first time. It is a wonderful idea for rainy days, sick days or when you simply want your child to disconnect from electronic devices for a bit. I love that it promotes dexterity as children peel the stickers and manipulate the pieces into the desired designs and that it inspires their creativity.
Adam, Hannah and Jacob enjoyed the Bug Activity Kit ($7.99), the 150 piece text-UR® Foam Kit and the Bee Standup Kit ($3.99). They display their art creations with pride and there were enough pieces left over for them to create some additional models too.
Fibre-Craft text-UR® Foam craft kits are attractively priced starting at $2.99-$8.99 and can be purchased at retailers such as Michaels, Joann's, Meijer and A.C. Moore. I really enjoyed watching my children create with the Fibre-Craft text-UR® Foam craft kits and plan to purchase more kits as a fun party idea for the kids as my two younger children have their birthdays coming up next month. It is the perfect, affordable party arts and craft project!