Stride Rite Review
Disclosure: I was not financially compensated for this post. I received a sample of the product for review purposes. The opinions are my own, based on my personal experience with the product.
Fall is in the air here in NY. The days are getting shorter and the temperatures are dropping day by day. I love it – I'm a fall person and I cannot wait for the season to change! Season changes here usually mean shoe shopping needs to be done for my two boys. They grow so fast and it seems we're always in need of a new pair every few months. I like to make sure that we get the best fit for their feet, and that we also get a quality shoe that can stand up to the rough and tumble play of my boys. That's why we always head to Stride Rite for shoe shopping.
I received one of the latest fall fashion shoes from Stride Rite, for my youngest son, for review – the Stride Rite Mosby. Even though I like to have their feet measured in-store, ordering these online was a breeze. All I had to do was print out and use the Stride Rite measuring tool on their site. I wanted a shoe for him that could do double-duty as an everyday shoe and also a shoe for dressier occasions. The Mosby fits the bill perfectly! I like the tri-color look of the brown, beige, and orange, and love the look of the laces on this shoe (especially since the laces are purely decorative!). The hook-and-loop closure makes it easy for my 2-year-old to get this shoe on and off by himself with little help. It looks good on him when he's wearing jeans, and they look equally as good with his little khaki pants that we put on him for more formal events. Beyond the looks, this shoe also has a lot of neat features that keep little feet happy and safe, including rounded edges to decrease stumbling and falling, and a self-molding footbed with heel cradle. So they feel good and look good – you can't beat that combo! This shoe sells for $46 online as well as in the Stride Rite stores and is also available in wide width.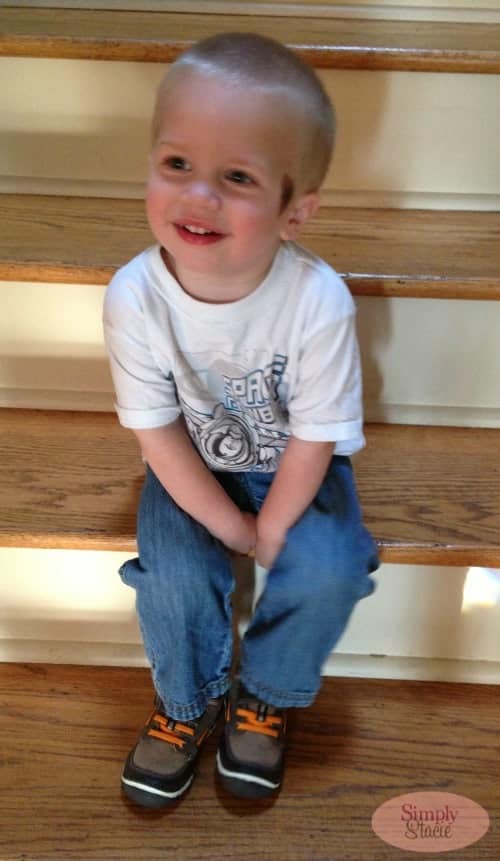 Stride Rite has been around for decades producing quality children's footwear. Their baby shoes were the first ones in the industry to carry The American Podiatric Medical Association's Seal of Acceptance. Throughout the years, Stride Rite has remained committed to providing the best fitting shoes for children. Every single shoe they manufacture is created from an in-depth knowledge and understanding of how children walk and grow. As a matter of fact, Stride Rite studies have led to important breakthroughs and new technologies in children's footwear. So whether your child is taking their first steps or is off and running, Stride Rite has you covered.
To see the full line of baby and kids shoes that Stride Rite has to offer, check out their website. You can also find them on Facebook and Twitter.